If you're an eBook reader, then chances are you've been reading your favorite books on an Amazon Kindle since the device is the most popular in its category. Amazon has really outdone itself with the Kindle, but as always, things are not always perfect. The Kindle app & hardware appears to have problems on Windows 10. If Amazon Kindle for PC won't open or has stopped working on Windows 10, then these suggestions are sure to help you fix the issue.
Amazon Kindle app not working on Windows 10
There might come a time a Kindle user wants to connect their device to a Windows 10 computer for various reasons, and while such a connection tends to work flawlessly at times, it's not always the case in some scenarios. The big question is, then, what should one do if their Kindle fails to connect properly, if at all, to their Windows 10 computer? Let's talk about that.
1] Did you install the Kindle driver?
Plug and play is one of the most important features on Windows 10, but not every device supports it right out of the box. The Kindle is one of those devices because it requires the installation of a driver to get going.
To install the Kindle driver, right-click on the Start button then select Device Manager from the list that appears. After that, be sure to expand the section that says Portable Devices, and here you should see Kindle, or another name, MTP device.
Right-click on your device and click on Update Driver Software. The next step, then, is to select Browse my computer for driver software >  Let me pick from a list of device drivers on my computer > Show compatible hardware.
Finally, select MTP USB Device, then click on Next. Follow the instructions after to get the driver up and running.
2] Use a different USB port
Most computers come with more than just a single USB port, therefore, if connecting your Kindle through one fails, just try another. Bear in mind that USB ports tend to fail over time due to regular usage, or if your computer took fall damage.
Alternatively, you could also try using a different USB cable, but before doing this, test if the current cable works with other devices because if it does, then the cable is not at fault.
3] Link your Kindle to another Windows PC
Maybe something is wrong with the software on your computer, so one of the best options, then, is to simply connect the Kindle to a different computer to see if it works. In most cases, connecting a product that is not working to another Windows 10 PC doesn't change anything, but it never hurts to try.
4] Let's perform a hard reset, shall we?
Here's the thing, your Kindle might be suffering from hardware issues, so that means, you will have to perform a hard reset to clear things up and return the software to its default factory settings.
OK, so to restart your Kindle, press and hold the power button until the product automatically restarts. This should do the trick.
I'm having problems signing into my Kindle app for Windows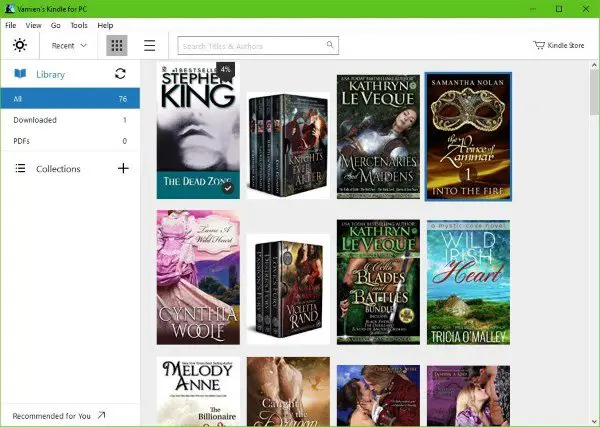 Before we go any further, keep in mind that the Kindle app from the Microsoft Store is no longer available. As it stands, then, you must download the official software directly from Amazon, but you need to live in a supported country.
We suggest changing your Amazon region to a supported one then proceed with the download.
Now, if you're having problems signing into your Amazon account via the Kindle app, then maybe you've activated 2-step verification. The only way to enter your account, then, is to check your email after the failed sign-in message.
You should now see a security message with a numbered code inside. Copy the code, return to the sign-section, and use the code as your password.