In a single Windows operating system installation, you can have various kind of User Profiles, due to multiple profile ability. In Windows 8, you can have mandatory, super-mandatory, temporary or system user profiles and these are collectively known as Special profiles. When you're logged in with a temporary profile, it is the case of your being just logged in with a special profile. It is worth mentioning here that local user accounts are not included in special profiles.
Special Profiles in Windows 8
Windows 8 is the operating system which introduced the apps to the Windows OS. These apps require deployment operations, and they are available in standard packages. By deployment operation, we means adding, registering, staging, updating or removing an app package from the system. Now, lets back come to the point. We have observed that when you're logged into a special profile, you may not able to find any of the Modern apps on the system. Moreover, you can't perform any deployment operation when you're on the same profile.
So how do we configure Windows 8 in such a way, that you can perform deployment operations even when you're on a special profile? Let us see how!
Allow Deployment Operations on Special Profiles
1. Press Windows Key + R combination and put gpedit.msc in Run dialog box.
2. In the left pane navigate to:
Local Computer Policy -> Computer Configuration -> Administrative Templates -> Windows Components -> App Package Deployment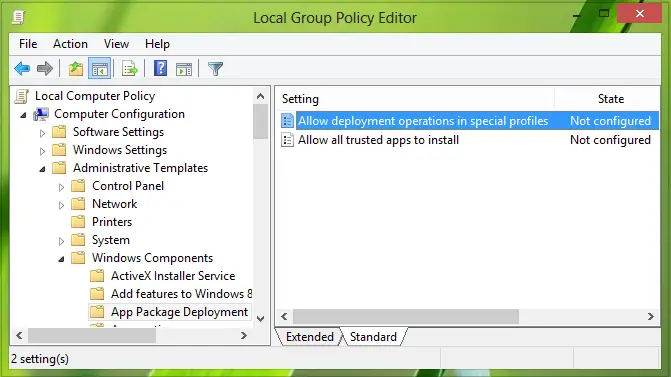 3. In the right pane of this location, look for the setting named Allow deployment operations in special profiles. This must be having Not Configured status by default; double click on the same to modify it: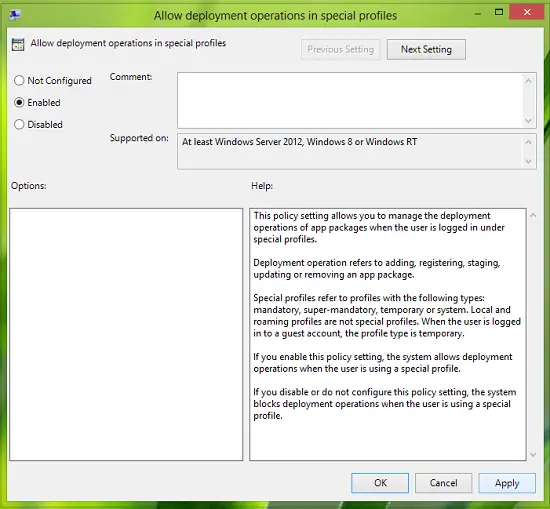 4. Finally, select Enabled on the above shown window. Click Apply followed by OK. You may now close the Local Group Policy Editor and reboot to start performing deployment operations using special profiles.
Once you have done this, restart your system. Your Windows 8 system will now allow deployment operations even on Special Profiles In Windows 8.