Video sharing has become one of the hottest online activities that most internet users are participating in. Having said that video sharing is not only about uploading videos, but it is also about creating a unique video clip that can be appreciated by users. Creating impressive home videos has now become easier than ever thanks to a huge array of free video editing software. APowerSoft Video Editor is one such online tool.  Whether you want to apply special effects or dabble a video in animation Aerosoft Video Editor is the perfect free editor software for every need of yours.
APowerSoft Free Online Video Editor
APowerSoft Video Editor helps you to create original videos that can impress everyone! The free program has been specially designed for beginners to help them edit their freshly created video clips in minutes. Videos created with this tool can be converted into any format supported by the tool, do the basic editing work and share them online.
When you first visit the official page, you'll find 'Select files to Start' button. Click on the button to download the application launcher.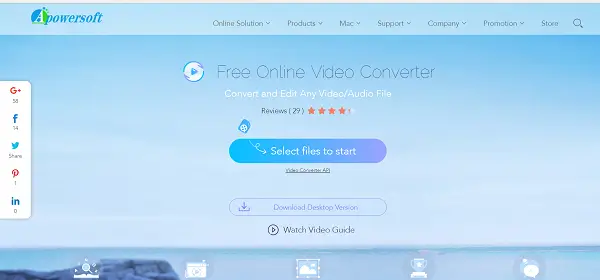 Once done, you will be directed back to the main web page in the browser.
There, you can click the 'Select files' option again to choose the desired file to edit.
The program's editing features, without being exhaustive, will let you trim and crop your video files, make necessary corrections to our videos, add watermarks and apply other interesting video effects to the end results.
To view the information of file select the 'i' icon and later, select the edit option to begin editing.
Select the format you want for your video. if the video is not in the desired format, hit the 'convert' button to convert it.
Then, chose a suitable location to save the file. Also, if you would like to share the video you just created with others, select the share icon and share the video with your Facebook, Google, Twitter or Pinterest account.
After finishing editing videos, you can share your masterpiece with the family or your friends.
What is the best free online video converter?
Although there are so many free online video converters available in the market, you can take a look at APowerSoft. The user interface of this web tool is uncluttered, and the number of features is higher than usual. Whether you need to convert audio or video files, you can do that with the help of APowerSoft.
How do I convert a video file to an audio file?
If you want to convert a video file to an audio file or extract the audio, you can give APowerSoft a try. It is an online tool that is available for free. No matter whether you want to extract the audio or convert the video or audio from one format to another, you can take the help of APowerSoft. As it is an online tool, you can use it from any device, irrespective of the operating system.
The problem with the free version is that there will be a watermark on the output of every video, and that's not something we like at all! If you are fine with this part, you can get started here.
Our post on free audio & video converter software may interest you if you are looking for desktop software.