If you try to open the Windows Registry Editor, it will ask for administrator privilege to open. Click Yes to the UAC prompt can get irritating if you use regedit frequently. There is a solution now available. AdvancedRun from Nirsoft is a free and portable software that allows you to run a program with different configurations and settings. These can include low or high priority, start directory, minimized or maximized, with different users or permissions, operating system compatibility settings, environment variables, and so on. You can even open multiple instances or windows of the same program with diverse configuration or settings. You can also save the desired settings into a configuration file and then run the program automatically from the command-line with the desired settings.
AdvancedRun for Windows 10
It is a very easy-to-use software as it comes with less complicated settings. The single window of AdvancedRun is enough to make it popular and handy.
You will get the following features in this free tool:
Program selection
Command-Line arguments
Start directory
Custom priority
Main window state i.e. Normal, minimized, maximized, hidden
Custom window position
Custom windows size
Run as (With & without administrator privilege)
Compatibility mode
Color bit-rate selection
Apart from these regular features, you will get an option that will search for the exact path of an app before executing the command given by you. You can simply make a tick in the box that is positioned prior to Use search path to find the program location if the full path is not specified. It will actually assist you to bypass the wrong app path error.
To open an app (for instance, Registry Editor) without administrator privilege using AdvancedRun, you need to do the following things.
At first, choose the program path.
Enter,
C:\windows\regedit.exe
Select "Window Position" and "Windows Size" if you want modification. Otherwise, this is totally optional in this case. Following that, select Current User – Without UAC Elevation from the drop-down menu.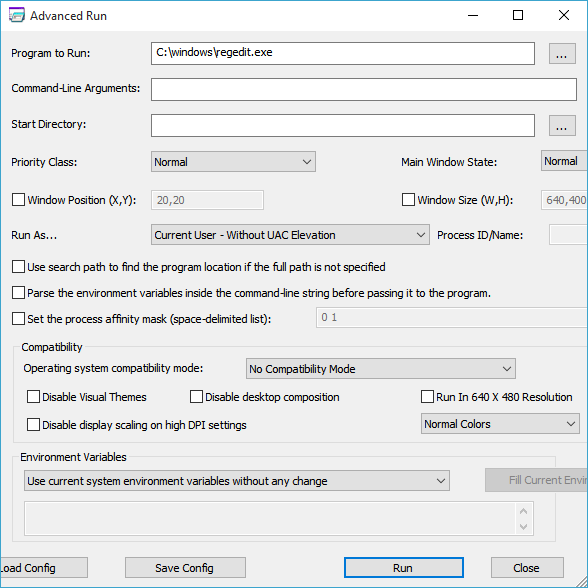 After that, if you want to change the color bit-rate, select either 256 colors or 16-Bit colors from the respective menu. If you do not want to change, let it be as it is. Finally, click on Run button to open the program with your configuration.
If you like this software, you can download it from here. AdvancedRun is available for Windows 10/8/7. It is available for download for 32-bit as well as 64-bit Windows.
The latest version of AdvancedRun tool (version 1.15)  allows you to easily launch a program with the desired run options directly from Windows Explorer. In order to activate this option, run the AdvancedRun tool and then click the 'Add Explorer Menu' button:
Here is another trick that will help you to open a second instance of an app.