Photoshop has good features and most used professional image editing software. It is available on a subscription basis to the users. The features Photoshop has to edit photos are not available on any other programs. Some users of Photoshop are reporting that they are seeing Graphic Processor not detected error on Photoshop. In this guide, we have a few solutions that can help you fix the issue and use Photoshop normally.
Adobe Photoshop Graphics Processor not detected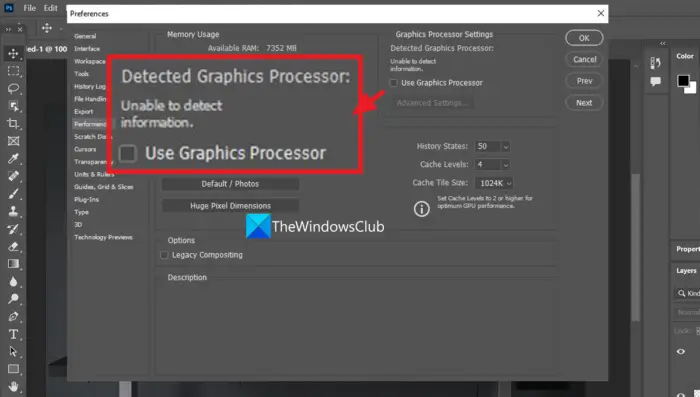 If you see Detected Graphics Processor: Unable to detect information on Photoshop, the graphics card or processor is not detected. The following methods can help you fix it.
Update graphics drivers
Update Photoshop
Enable Legacy Composting or Multithreaded Composting in Photoshop
Set Maximum Performance to Photoshop in Graphic Processors control panel
Let's get into the details of each method and fix the issue.
1] Update graphics drivers
For any multimedia applications, or games to run well without any issue, the graphics drivers need to be updated regularly to the latest versions. The latest versions come with better performance and fix the issues that occurred with the previous versions.
To update graphics drivers on Windows 11/10,
Open the Settings app by pressing Win+I
Select Windows Update from the left sidebar
Click on Advanced options on the right side
Select Optional updates on the right side
Expand Driver updates to see if any Graphics or other driver updates are available. If there are any updates available, install them.
Alternatively, you can download the compatible drivers from the manufacturer's website or use a third-party program to update graphics drivers.
2] Update Photoshop
There is a possibility that the graphics processor not detected error might have been caused by bugs in the previous update of Photoshop or corrupted files. Updating Photoshop to the latest version would fix it.
To update Photoshop,
Open Photoshop and click on Help in the menu bar
Then, Select Updates from the options. It will open the Adobe sign-in page in your default web browser. Sign in and download the latest version from there and install it.
This is how you can update Photoshop and fix the graphics processor not detected error.
3] Enable Legacy Composting or Multithreaded Composting in Photoshop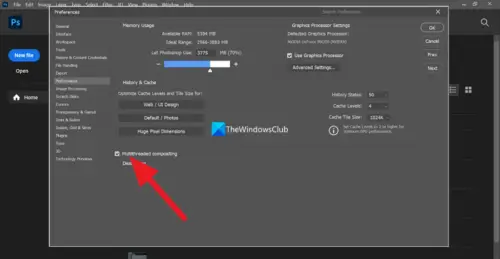 Adobe introduced Legacy Composting in Photoshop to use when the users are facing any issues while using a feature. It enables the necessary features and turns off the others while you use Photoshop after enabling Legacy Composting. In the latest versions of Photoshop, they removed Legacy Composting and replaced it with Multithreaded Composting. They both have similar functions to use when you are facing performance issues with Photoshop. There are huge chances that it might fix the undetected graphics processor error.
To enable Legacy composting or Multithreaded composting in Photoshop, Click on Edit in the menu bar and hover over to Preferences. Then, select Performance. It will open the Preferences window. You will find Legacy composting or Multithread composting there. Check the button beside it to enable it. Then, click OK.
Read: Fix Photoshop problems and issues like quitting, closing itself, etc.
4] Set Maximum Performance to Photoshop in Graphic Processors control panel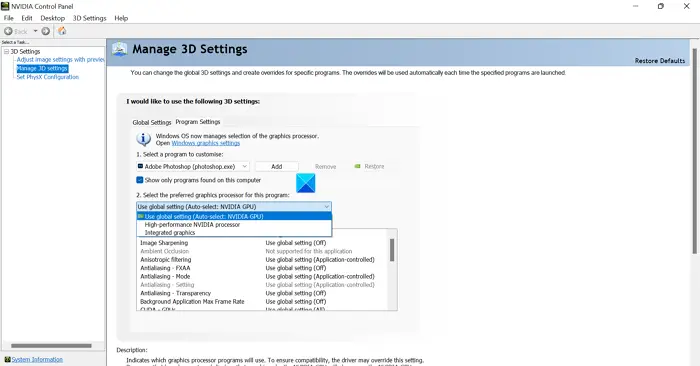 Each graphics processor has a dedicated control panel like NVIDIA Control Panel or AMD Radeon Software to make changes to its behavior and change performance modes. You can change the performance mode of particular applications in those Control Panels. To fix the graphics processor not detected issue, you need to set the Performance mode of Photoshop to Maximum performance.
To set Photoshop to Maximum Performance on NVIDIA Control Panel,
Right-click on the desktop and select Show more options. Then, select NVIDIA Control Panel.
On the NVIDIA Control Panel, click on Manage 3D Settings.
You will find two tabs, Global Settings, and Program Settings under I would like to use the following 3D settings section. Click on the Program Settings tab.
Now, click on the drop-down button under Select a program to customise and select Adobe Photoshop (photoshop.exe) from the list.
Click on the drop-down menu under Select the preferred graphics processor for this program and select High-performance NVIDIA processor.
The options might differ on your graphic processors' control panel, but they all have similar words.
These are the different ways using which you can fix Adobe Photoshop graphics processor not detected error.
There are different ways using which you can fix Photoshop graphics processor not detected error. They are updating graphics drivers, updating Photoshop, enabling legacy composting or multithreaded composting, or setting Photoshop to high performance or maximum performance in graphics processor settings.