Do you listen to quite a lot of music on your web browser? Or if you are dealing with a lot of audio from your web browser, then Volume Master, a Google Chrome extension, can help you out. Volume Master is a free Google Chrome extension that lets you control the volume for any browser tab separately. This comes in handy when you want to mix a few sounds with different intensities. You can fade music tracks opened in different tabs easily and create other effects as well.
Volume Master for Chrome browser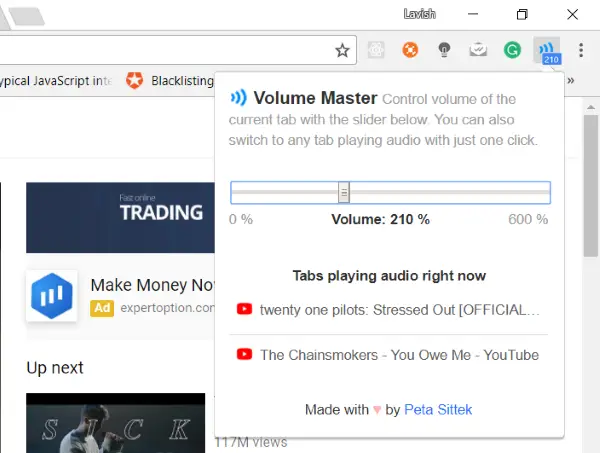 Volume Master can be easily downloaded from Chrome Web Store and then can be accessed easily from the blue icon beside the address bar. The extension works flawlessly well and is easily accessible too.
Adjust volume in Chrome tabs separately
To control the volume of a tab, click on the Volume Master icon and adjust the slider to control the volume of that tab. The slider can slide beyond 100% up to 600% which means the extension can even provide a volume boost to the music or videos that you are playing in your web browser.
Also, the transition from 0-600% is very smooth and the unit increment is 10% on every step. So, you get almost 60 levels of volume adjustment on every tab.
Below the slider, you can see the list of tabs that are playing some audio. Clicking on any one will take you to that particular tab. And you can follow similar steps to adjust the volume for this tab. All the tabs will now have independent volume controls, which can be adjusted easily.
Volume Master is indeed a very good Google Chrome extension that you must have. It not only lets you adjust the volume independently but also provides a volume boost as well. Now you can easily mix music and other audio by varying volumes of different tabs.
Volume Master is completely free and displays no ads. It is sized around 20KBs. Overall it is a small, clean and useful Google Chrome extensions. Click here to download Volume Master.