There appears no way to play music automatically in the background while viewing the entire Sway. However, the Microsoft service does allow you to add audio cards containing specific sound files. In today's post, we'll introduce to you the method to add multimedia files in Microsoft Sway.
Add Video & Audio files to Microsoft Sway
In addition to adding audio files to Sway in multiple common audio formats (such as .mp3 and .wav), you can record audio and upload it to Sway. Either way, you can achieve the desired result and offer your audience even richer multimedia experience.
Click Insert Content button.
Switch to Media tab.
Choose Audio option and add an audio file.
To add audio recording, click Record on the audio card.
Record audio in Sway.
Add video files to Sway.
Here's the description of the above steps in detail.
Add audio to Sway

Open your Sway content presentation and click 'Insert Content' button.

Switch to 'Media' tab and select 'Audio' from the list of options displayed.

Now, hit the 'Add an audio file' tile to look for the audio clip on your device.

Wait till the audio file is processed and added to Sway.
Similar to audio files, audio recordings can enhance your Sway experience. It can make the presentation look more interactive and engaging.
Record Audio in Sway
To record audio, click 'Record' (mic icon) on the audio card.

After a three-second countdown, the flashing button will appear. It indicates you're recording.
Click the flashing button when you've finished recording and hit the 'play' button to preview your recording.
If you're satisfied with your recording, select 'Add to Sway' or choose 'Re-record' to start recording again. You can delete your recording by clicking on the 'Trash Can' icon.
Add Video files to Sway
As seen above, you can choose to add video files to Microsoft Sway.
Click 'Insert Content' icon and select 'Media' tab.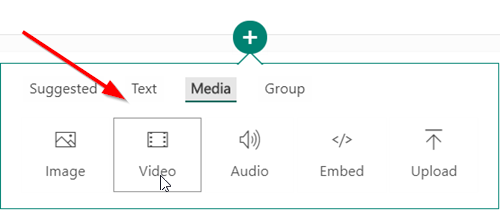 From the list of options displayed, choose 'Video'.
From the Suggested window, choose 'My Device' and browse to the location of the file on your device and select it.
Wait until the file is processed and added to Sway successfully.
That's it!
Now read: How to add OneNote images & web embeds in Office Sway.