Windows 11 is now generally available to all and a lot of changes have been done by Microsoft in Windows 11 in comparison to Windows 10. Some really good and new features are available in Windows 11 like redesigned Taskbar, Start menu, etc. On the other hand, a long list of features deprecated or removed in Windows 11 is also there. Drag and Drop support for items to the taskbar is one of such features or functions. But you can still add or bring back Drag and Drop support for items to the taskbar in Windows 11.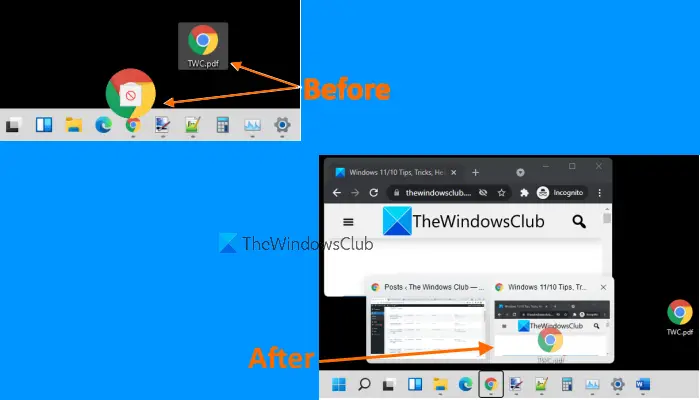 In Windows 10, users can drag a file, and drop it in the taskbar icon of an opened application to open that particular file.
For example, if you want to open a PDF file in Microsoft Edge or Chrome browser, then you simply need to drag that PDF and drop it in the taskbar icon of Chrome or Edge browser. Windows 10 opens the interface of the browser and then that file is opened in the selected browser. But this basic functionality is removed in Windows 11. Thankfully, a third-party free tool known as Windows11DragAndDropToTaskbarFix helps to bring the same functionality back in Windows 11.
Add Drag and Drop support to Taskbar in Windows 11
To add Drag and Drop support for Windows 11 taskbar, download this tool from github.com. It is a portable tool so just execute its EXE file to launch it.
After execution, Microsoft Defender SmartScreen (if enabled) will prevent this app from running. So, you need to click on the More info option in the prevention box and then click on the Run anyway button to launch the tool.
When the tool will launch, its console window will open showing you some information. You can close that window or it will close automatically in 10 seconds.

That's it. Now the tool will start running in the background and start doing its work.
Now drag a file and move it to the taskbar icon of an opened application that can open that file. The tool will show the thumbnail of that application. Move the file to the thumbnail of that application. After that, this tool will restore the window/interface of that application, and then you can drop that file on the application interface.
This way you can open files to opened applications by dragging n dropping files to their taskbar icons.
When you don't want to use that tool, you can close it from the task manager. Since this tool doesn't come with any system tray icon or interface, there is no other way to close or terminate this tool. So, open the Task Manager of Windows 11, access the Details tab, look for Window11DragAndDropToTaskbarFix.exe file, and end that task to close it.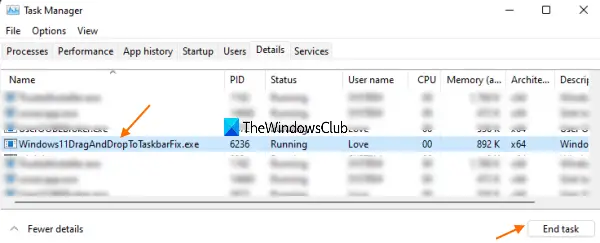 Apart from this main feature, this tool also comes with a configuration (*.txt) file which has pre-added options that you can customize. There are options like automatically running this program on startup, show/hide console window while you launch the tool, etc., that you can set as per your requirements.
You can download that configuration text file from its homepage and then save that file to the same folder/location where you have saved its EXE file. After that, open the configuration file in Notepad or Notepad alternative tools and start editing it.
How do I fix Drag and Drop on Windows 11?
Microsoft has removed drag n drop functionality to Windows 11 taskbar. Also, there is no Group Policy or Registry Editor setting that can fix or add drag n drop support to the taskbar in Windows 11. Still, it is possible to open files or items by dragging n dropping them to taskbar icons of opened applications in Windows 11. For this, you need to download and launch a third-party and free tool named Windows11DragAndDropToTaskbarFix. We have covered everything related to that tool in this post above that will help you.
How do I move the taskbar in Windows 11?
Like the drag n drop support function for items to taskbar, the option to change the taskbar position is also removed in Windows 11. While users can easily change the taskbar location in Windows 10 (to move the taskbar to top left, bottom, or right), no such option is available in Windows 11 (for now). However, there is a Registry tweak that can help you move the taskbar to the top on Windows 11. You can apply that tweak and the taskbar will move to the top of your desktop screen.
Hope this helps.