If you have a lot of black and white photos sitting on your computers hard drive with the plan to one day to add some color to them, then you're in luck because we've found a decent tool for that very job. The free software in question is called Picture Colorizer, and from our multiple days of use, we can say for certain that it works.
Now, while it does work, the program isn't perfect because there are times when it will fail to properly add color to a black and white photo. This might be an issue with the photo itself or the software, but we cannot tell for sure.
Additionally, we should point out that Picture Colonizer does not transform your photos locally. The tool uploads the photo to a server and from there, it uses some form of artificial intelligence technology to complete the job.
Picture Colorizer lets you add color to Black and White Photos
The developers behind the program stated that every photo is deleted after a 24-hour period, but we are not sure of this. With this in mind, we would like to urge users to refrain from colorizing personal images until a privacy statement is released, along with information on where the servers are hosted.
Let us talk about this app in greater detail.
Add your photo and Colorize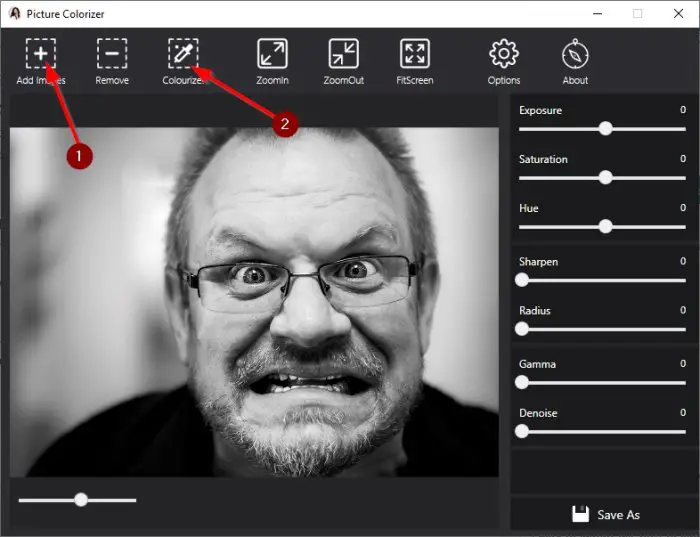 OK, so the first thing you will need to do here, is to add the required image to the editing area. Do this by opening Picture Colorizer, then click on the button that says Add Images.
From the screenshot above, you can see that we've added a black and white photo of a Caucasian man, so what do we do next? Well, it's simple. Just click on the "Colourize" button and wait for the photo to be uploaded and converted.
The entire process all depends on the size and complexity of the image, and your internet connection speed. Bear in mind that a constant internet connection is required here or else the program will not work as intended.
The finished product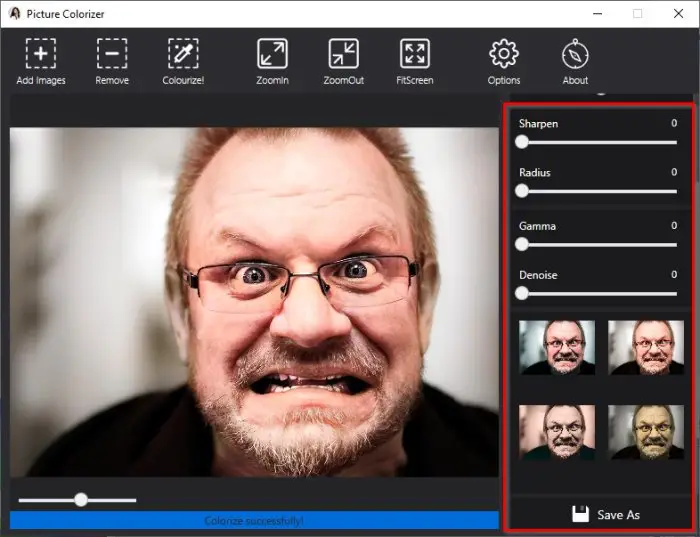 When the image processing is done, you should now see your picture in color, but that is not the end. You see, on the right side of the tool, you will see a bunch of options that will allow users to edit the photo. For those who do not want to get manually involved, scroll down to see different filters of the recently converted image.
Select the one that fits your narrative, then finally, click on the Save button to place the picture on your hard drive.
Change the Save format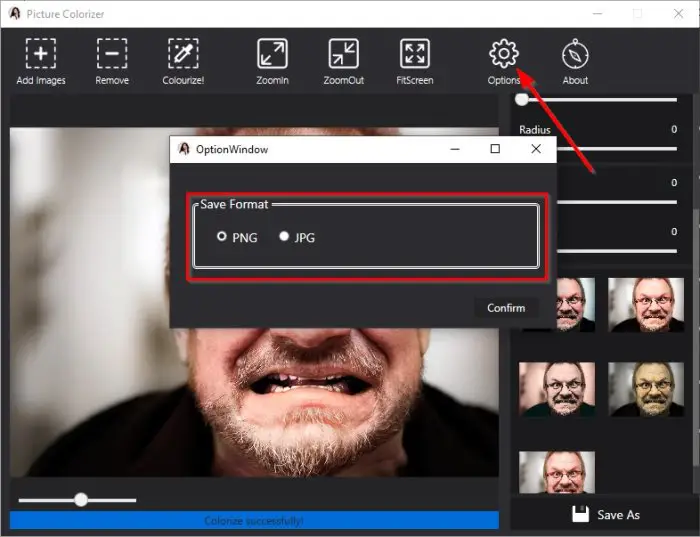 By default, all images will be saved in the PNG format, but this can be changed to JPG.
To do this, click on the Options button, then select JPG and hit Confirm to initiate the change.
You can download Picture Colorizer from imagecolorizer.com.