PowerPoint is one of the best tools to create animated slideshow for a school project, business, etc. If you are going to share a PowerPoint presentation online or with someone and you do not want others to steal your credit, you should insert a watermark. Here is how to add a watermark to PowerPoint slides so that you can prevent others from copying your work.
Before getting started, you should know that you can use this trick only on the desktop version of PowerPoint. You may not get it in PowerPoint Online. Also, you can add any watermark, including text, picture, shape, icon, 3D models, SmartArt, chart, etc. It is possible to insert images from online sources as well. The only drawback of this trick is that you cannot add watermark to multiple slides at once. You need to repeat the same steps to add watermark to more than one slide.
How to add a watermark to PowerPoint slides
We will show you how to insert a watermark in Microsoft PowerPoint presentations. You can add a Draft text or an image watermark using the Slide Master. To add a watermark to PowerPoint slides, follow these steps-
Open PowerPoint on your computer
Go to the View tab and click on Slide Master option
Switch to Insert tab and select what you want to insert
Place it where you want to show the watermark
Click Close Master View button to save the watermark.
Open the PowerPoint on your computer. You can add the watermark before or after finishing the editing part and it depends on you. However, if you are going to add a picture watermark, it is suggested to add it before editing so that you can choose text colors carefully.
After that, you should go to the View tab, where you need to click on the Slide  Master button.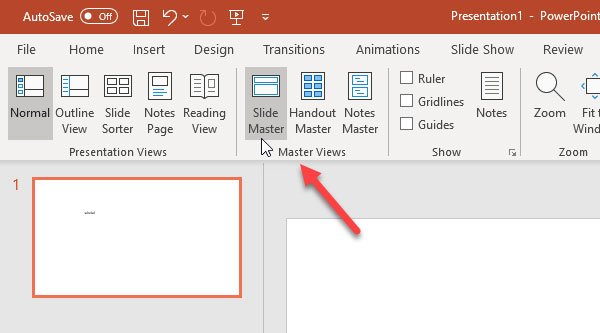 Now, switch to the Insert tab and choose what you want to use as the watermark. Like said before, it is possible to add image watermark, text watermark, shape, etc. If you're going to use the text watermark, click on the Text Box button and place where you want to show the watermark. Likewise, if you're going to add a picture watermark, you can click on the Pictures button, and insert the picture accordingly.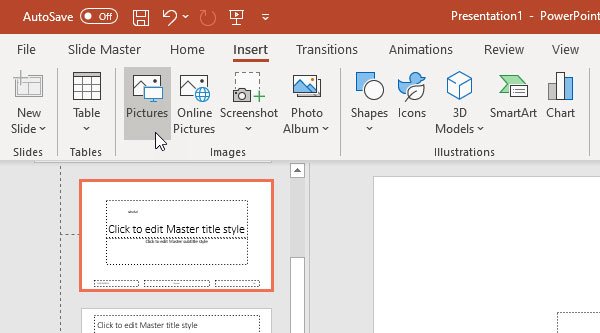 After doing all these steps, you need to go to the Slide Master tab and click on the Close Master View button.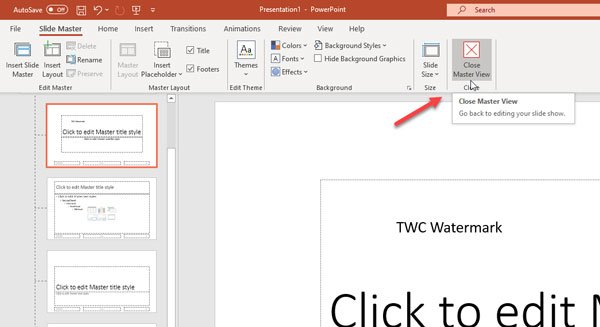 Now, you can find your text or watermark in the background that is non-editable. If you want to add the same watermark in all the slides, you need to select each slide at a time and repeat the same steps.
This is how easy it is to add a watermark to PowerPoint slides!
Related reads: