If the Account verification system is having trouble error keeps troubling you, then this post may help. This error usually occurs when users try to sign in using their work or school account. One of the following error message could appear:
Sorry, our account verification system is having trouble. This could be temporary, but if you see it again, you might want to contact your admin.
OR
Sorry we're having trouble verifying your confirmation code right now, Please try again later
Fortunately, you can follow some simple steps to fix it.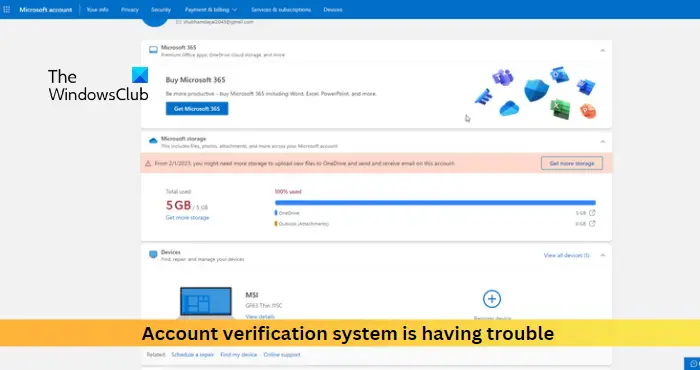 Why is Microsoft verification not working?
The security app sometimes blocks your device from receiving the verification code. However, it can also occur due to account security issues. Some other reasons why Microsoft verification may not work are:
Incorrect Login Credentials
Server Error
Unstable Internet Connection
Two-factor Authentication Error
Fix Account verification system is having trouble
To fix the Account verification system error, firstly, check if you're entering the correct login credentials. Nevertheless, if that doesn't work, follow these suggestions:
Follow this Checklist
Check your Internet Connection
Turn-off Two-Factor Authentication
Contact your Admin
Sorry we're having trouble verifying your confirmation code right now please try again later
1] Follow this Checklist
If you are the server or company administrator and have enabled Multi-Factor Authentication, then follow these suggestions:
If you have selected the call option for signing into your Microsoft account, respond by pressing the pound key once you receive the call.
If verifying using the text or OTP option, double-check the verification code before proceeding further.
Nevertheless, you've set up other options for security verification; click on Other verification options on the sign-in page.
Read: This device is locked by an Administrator
2] Check your Internet Connection
Errors like this can also happen if you have an unstable Internet connection. Perform a speed test to check if anything is wrong with your Internet connection. If the internet speed is less than the plan you opted for, try restarting your router and modem. However, contact your service provider if restarting your router and modem doesn't work.
3] Turn off Two-Step Verification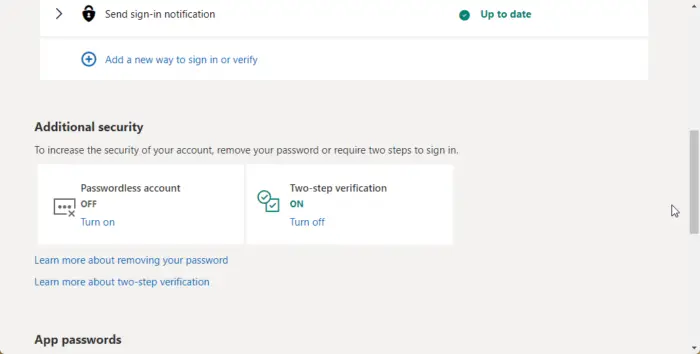 Two-step verification is a security process requiring users to verify themselves with different authentication factors. The account verification system can sometimes face troubles if this feature is turned on. Turn off this feature and see if the error gets fixed. Here's how:
Log into your Microsoft Account.
Navigate to Security > Advanced Security Options.
Scroll down and click on Turn off below the Two-step verification.
You can only turn off this feature on the personal account. If your work or school account uses two-step verification, the organization has added this security feature. If that's the case, you won't be able to disable it without administrator access.
Read: Microsoft Sign in Error 1001, Something went wrong
4] Contact your Admin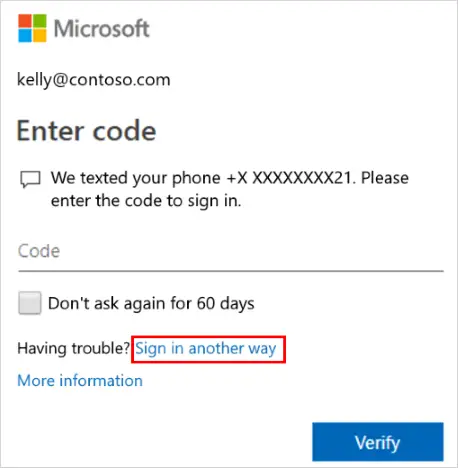 If none of the suggestions can help you, try using an alternative method to sign into your account. Microsoft allows users to add alternative sign-in methods to their accounts. Click on the Sign in another way option on the enter code page.
However, if you don't see this option, you may not have another verification method for your account. In that case, contact your administrator.
We hope this post helps you.
Why do I keep having to verify my account?
Device verification is an essential process to keep your account and data safe. The process ensures only you and the persons you've authorized can access your account. Typically, the verification process takes 3 to 5 business days. However, you can contact Microsoft support for assistance if this timeline exceeds.
Why is my Microsoft account not sending a code to my phone?
If you are not receiving the verification code while trying to login to your Microsoft account, check the internet connection of your PC and smartphone. Next, see if your service provider isn't blocking the messages or sending them automatically to the spam folder.