During migration from Exchange to Office 365 or vice-versa, you can choose to import your own emails, contacts, and other mailbox information. However, upon disabling the licenses of one of the services you can run into unseen problems. For instance, you might see a yellow warning bar appearing across an Office app, bearing the following message –
Account Notice – We've run into a problem with your Office 365 subscription, and we need your help to fix it.
Account Notice message in your Office 365 subscription
Firstly, the warning message is triggered by a problem related to your Office 365 subscription payment. For example, if your payment was declined due to an expired or canceled credit card, your subscription will be suspended. As such, make sure that:
Payment information is up to date
Office 365 subscription is active
Run the Microsoft Support and Recovery Assistant
Deactivate, uninstall, and reinstall Office
Let's see how to proceed correctly so that you don't experience any hiccups midway, during the migration process.
1] Check if payment information is up to date
If you have any Office app opened, close it.
 Go to your Payment options page.
Sign in and enter the Microsoft account email and password associated with your Office 365 subscription.
If your payment method is showing an error, update it.
After you update your payment information, try restarting an Office application like Microsoft Word or PowerPoint. If you still see the error, follow the next method.
2] Verify if your Office 365 for Home, Personal, or University subscription is active
Open your Services & subscription page.
And review the details under the 'Office 365' heading.
If it comes to your notice that your subscription has expired, kindly renew it. You can do this by 2 methods,
Renewing online at office.com/renew – it offers the convenience of renewing your Office 365 Home or Office 365 Personal subscription either in person or online. You need not visit a store.
Renew using a product key that you bought in a store – It's a 25-character product key, which you can use to renew at office.com/setup. Please note that your Microsoft account can have only one active Office 365 subscription. If you enter more than one product key at office.com/setup, you're extending the amount of time for that Microsoft account, not increasing the number of Office installs or amount of online storage you get.
After you renew your subscription, try restarting Word. Your problem should be resolved. If not, switch to another method.
3] Run the Microsoft Support and Recovery Assistant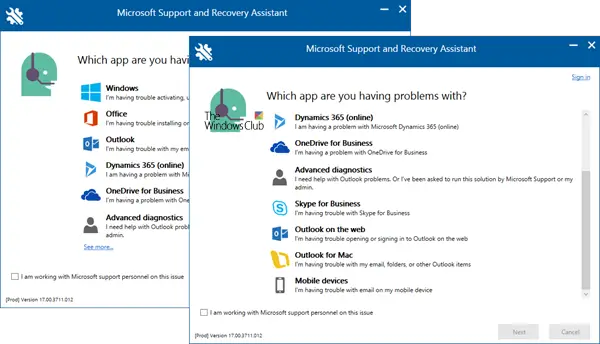 To use this Microsoft Support and Recovery Assistant tool, you'll need an active Internet connection. When enabled, it can help you identify and fix activation issues with Office 365.
4] Deactivate, uninstall, and reinstall Office
If all the above methods fail to yield the desired results, you can try deactivate or uninstall and reinstall Office to fix the problem. In the process, if you experience any problem related to Office activation, refer our guide on troubleshooting Office Activation problems.
We hope something here helps you.