Security has gone more secure! An update to the leading free firewall software, ZoneAlarm has been released adding more features and tweaks to the software. ZoneAlarm Free Firewall has been released and made available for public download. The update is said to have some UI tweaks and a new Privacy Toolbar which is an indication of Windows 10/8.1 support.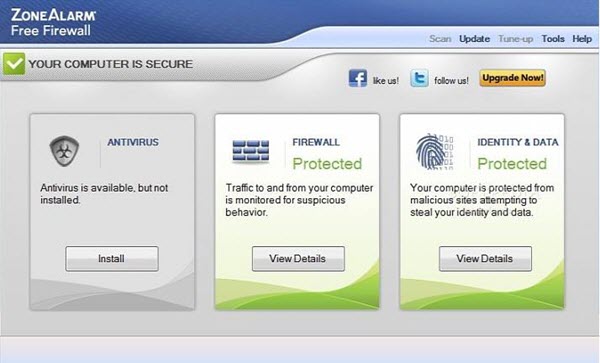 ZoneAlarm Free Firewall for Windows PC
This update is marked as an important update as it adds more security features to your existing firewall. The new Privacy Toolbar introduced in this update is compatible with Google Chrome, Microsoft Edge, Mozilla Firefox and Internet Explorer so you can run it on Windows 10 as well. The security toolbar adds some essential features to the ZoneAlarm Free Firewall. It will defend your online identity and prevents any website from tracking your personal data and keep your private data secured and maintain privacy.
The first button on the toolbar is the ZoneAlarm logo, which links to the ZoneAlarm website. Next is a Text box that lets you make a search query using the ZoneAlarm search engine. After the search text box, there is a small Facebook button that links to the 'Facebook Privacy Test' app by ZoneAlarm.
To use this Facebook Privacy Test app you need to log in to your Facebook account and let the app access your posts, friend list and etc. This app is really helpful as it scans your Facebook account and fetches the privacy score of your profile. It provides you with statistics and your final grade. With the help of information provided by the privacy test results, you can change your account's settings accordingly and push your security grade a little up.
After the Facebook button, there is a 'Website Information' button. Clicking this button will display some basic information about the site you are browsing. For an instance, I've opened site information for the TWC website and I got to know the Page Title, URL, and the category of page's content. Next to this button are some shortcut buttons that link to different websites like Facebook, Twitter, eBay, etc. There is also a button that opens the 'Private Browsing' mode in the browser.
These were some of the new features of the security toolbar introduced in this update. In addition to this toolbar, some minor UI adjustments had been made to make it easier to use and operate. These adjustments in the UI play an important role in maintaining the security of a device. Even after this update, the ZoneAlarm firewall remains free and among the best firewall.
Click here to download ZoneAlarm Free Firewall. We would love to hear experiences if you have used this firewall earlier or are still using it.