We discuss how you can fix your account is not enabled for Microsoft Forms error on your Microsoft Organization account. Microsoft Forms is a utility of Microsoft 365 Education that teachers, students, or working professionals can use to create and dissimilate questionnaires, surveys, etc. If they ever stop working, then that can cause a lot of tasks to take a backseat. The issue in question is faced when the organization administrator has turned off Microsoft Forms for some specific or all accounts. Thus, enabling Microsoft Forms again will help put an end to this error.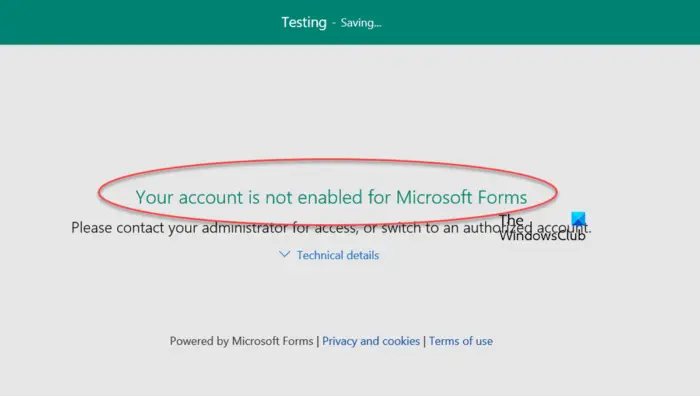 Your account is not enabled for Microsoft Forms
To remediate this error, the organization admin is supposed to review the Licenses and apps section and make sure that access to Microsoft Forms is granted. Here's how that can be done:
Turn on Microsoft Forms for specific accounts in the organization
Visit admin.microsoft.com and log in with the Global Admin Account credentials. The Global Admin account holder has global access to most management features. This will open the Microsoft 365 admin center
Visit the options bar on the left-hand side, open the Users drop-down, and further select Active users
Select the boxes next to the same of those users for whom you want to enable a particular service, in this case, Microsoft Forms
Once all the required users are selected, click on Manage product licenses
Select the Licenses and Apps tab and expand the Apps option
Scroll down till you can find the Microsoft Forms version your organization is using, and then enable it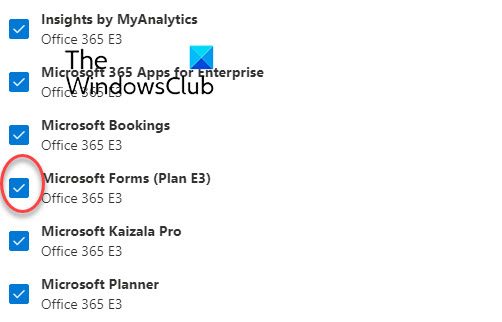 If you don't find Microsoft Forms in the list of Microsoft applications, then it's possible that your Office 365 license doesn't include it, but the changes of that are slim. Common licenses like E1, E3 and E5 have it included. At the bottom of the app list is a Save changes option that you can click on to save this change. Alternatively, you can enable Microsoft Forms for all the member accounts of the organization in one go.
Read: Microsoft Forms not showing all questions.
Turn on Microsoft Forms for all the accounts in the organization
Use your organization admin credentials to log on to Microsoft Azure
Select Azure Active Directory from the left option pane
Select Enterprise Applications. From the Application Type dropdown, select Microsoft Applications > Search for Microsoft Forms and select it
On the same search field, type Office Hive and select that
Click on Properties and in the 'Enabled for users to sign in?' option, select Yes
Save these changes by clicking on Save and check again if you are still not able to use Microsoft Forms on your account.
Read: Microsoft Forms vs Google Forms: Which is better?
How do I remove restrictions in Microsoft Forms?
Microsoft Forms are a part of the Office 365 package that allows members of an organization to create elaborate forms with ease. Forms made using this tool can be modeled in such a way that you can even add or remove restrictions from them. However, these restrictions can only be applied to text questions.
To add to or remove restrictions from a form, click on the triple-dotted icon (More settings for this question) at the bottom-right of the question
Select Restrictions to add them, or unselect it to remove them
Selecting Restrictions would require you to fill out several more fields about the nature of it, etc
Why is my Microsoft Forms not working?
MS Forms was a feature introduced in the Office 365 suite in 2016 and has since received many feature updates. But this has also accompanied bugs at the same time. A reported issue is of people complaining that the MS Forms app crashes and says "Sorry, something went wrong". This is likely happening only because there is an issue with the server, and you can use the Microsoft Service Health Status portal to check if the server is up and running. This keeps you up on Microsoft 365 Admin Center and Microsoft Azure.
Alternatively, if you feel that this issue is particularly facing you, you can raise a support ticket with Microsoft.
We hope that you find this helpful.