If you have wanted to set up Work Folders in Windows 7, then this post is sure to interest you. Microsoft introduced Work Folders in Windows 10/8.1. This new feature is basically a Bring Your Own Device enhancement, that will allow you to work from anywhere, from your different devices.
To set up Work Folders in Windows 10, you can open Control Panel\All Control Panel Items\Work Folders and click on Set up Work Folders. But if you are using Windows 7 and are looking forward to using this feature, you will now be able to do it, after applying this update.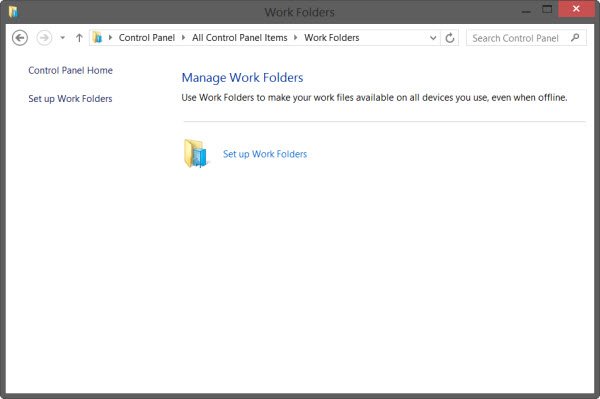 Work Folders in Windows 7
As we had mentioned in our earlier post, Microsoft was planning to release an add-on client for Windows 7 and an App for the iPad too. And true to its promise, Microsoft has today released Updates for Windows 7, which will allow you to install Work Folders in Windows 7 Service Pack 1 too.
Work Folders for Windows 7 will enable you to use a Windows 7 computer to access your Work Folders only if the following conditions are true:
You have a Windows 7 computer that is joined to your organization's domain
Your organization offers Work Folders and has set it up for your domain account.
There are a few known issues, you may want to know about before you decide to install Work Folders for Windows 7:
If you upgrade from Windows 7 to Windows 8.1, and the data is kept on the computer without the partnership information. If the local folder that stores Work Folders is encrypted on Windows 7, the same path cannot be used again on Windows 8.1. By default, it is located in C:\Users\Username\Work Folders. You may have to employ workarounds.
When a user migrates the computer from Windows 7 to Windows 8.1 by using User State Migration Tool and configures the migrate settings to include the user partnership information, the Work Folders data is not migrated.
If the client installs a localized (non-English) version of the Work Folders on Windows 7, after migration, the Work Folders shortcut under the Favorite folder is displayed in English.
Client computers must use Internet Explorer 9 or later, otherwise, users cannot be authenticated against the server.
After installing this update, the Work Folders Group Policy template may indicate that it only applies to Windows 8.1 only, but you can apply it in Windows 7 too. You will also find the settings for Work Folders in Group Policy under:
Users > Policies > Administrative Templates > Windows Components > Work Folders
The Work Folders shortcut is added to the user's Favorites folder in Windows Explorer on Windows 7. If the Favorites folder is redirected to a network share, the shortcut for Work Folders will not be present.
If the Work Folders client experiences slow sync performance install

hotfix

2665206
Download Work Folders for Windows 7 Updates from the links mentioned at KB2891638. It is available for Windows 7 Enterprise, Windows 7 Professional and Windows 7 Ultimate, 32-bit as well as 64-bit systems.
Related read: Work Folder sync Error 0x8007017C, The cloud operation is invalid.