Some users are facing Windows Remote Access Service errors while trying to access VPN via Sonicwall NetExtender. In this guide, we have a few solutions that can help you fix the issue. The error message you may see is:
The Windows Remote Access Service (RAS) has encountered an error. Rebooting your PC may resolve this issue.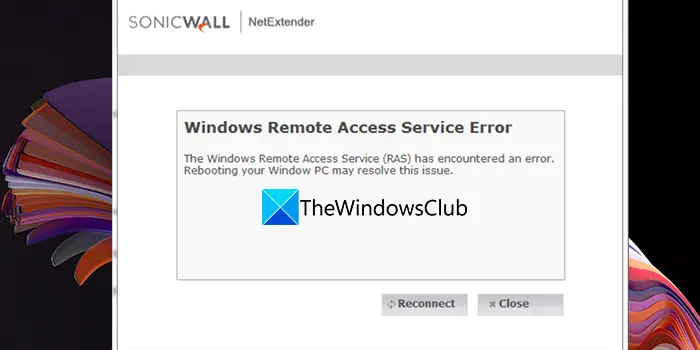 What is Remote Access Service (RAS) in Network?
Remote Access Service (RAS) is a networking service on Windows that provides remote access for remote clients. It works as a remote gateway or server that connects remote users with an organization's local area network. A computer that runs on Windows and RAS is installed, then it is called a RAS server.
Windows Remote Access Service (RAS) has encountered an error
If you are seeing the Windows Remote Access Service (RAS) has encountered an error message, you can fix it in the following ways.
Remove any recently installed software
Uninstall WAN Miniport adapters
End svchost.exe Service
Reinstall NetExtender
Let's get into the details of every method. Before that, as the error message suggested, reboot your PC and check if the error has gone.
1] Remove any recently installed software
If you have installed any program recently that might interfere with your network settings, you need to uninstall it. That might be the reason for the error occurring in the first place. After uninstalling that program, restart your PC and see if it has fixed it.
2] Uninstall WAN Miniport adapters
This is a straightaway solution that worked for many who faced the RAS error. You need to uninstall WAN Miniport adapters in the Device Manager to resolve the RAS error.
To do so,
Press the Win + R keys to open the Run box. Type devmgmt.msc and then press Enter to open Device Manager
In the Device Manager window, expand Network adapters
Under Network adapters, right-click on WAN Miniport drivers (IKEv2) and select Uninstall device.
Also uninstall the following drivers: WAN Miniport drivers (IP), and WAN Miniport drivers (IPv6), in the same way.
After that restart your PC and see if the error still occurs.
Read: Routing and Remote Access Service not starting
3] End svchost.exe Service
This solution has worked for many users. You need to manually kill the svchost.exe service to get rid of the error.
Open the Task Manager and click on the Services tab
Find Remote Access Service and right-click on it.
Select Go to details and it will take you to the correct svchost.exe process. Right-click on it and select End task.
You can now manually start RAS. This fix will work until you reboot your computer. You need to do it every time you see an error because after the restart svchost.exe runs automatically.
4] Reinstall NetExtender
If none of the above methods work in fixing the RAS error, you need to uninstall NetExtender using the Settings app, or from the Start Menu. After uninstalling, you need to go to Program Files and delete any traces of SonicWall NetExtender. Then, you need to restart your PC, download NetExtender from the SonicWall website and reinstall it.
These are the different ways using which you can fix the issue when you Remote Access Service error is encountered.
What is Remote Access Service (RAS) error?
Remote Access Services occurs when you try to connect to a client. They disconnect the connection automatically and won't reconnect until you fix the causes. You need to implement every possible fixes to fix it. The above solutions can help you fix if you are unable to connect to a client or if any error that occurs on the server.
Read: VPN error 812, Connection prevented because of RAS/VPN server.