So you've been a long time user and you'd like to go back in memory lane; then here's a theme pack for Windows 7 which will take you back.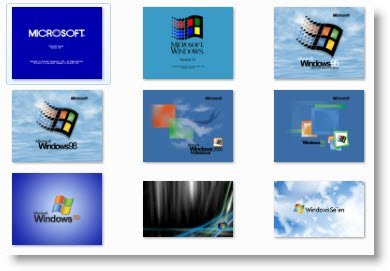 Windows Nostalgia Theme
Windows Nostalgia Theme for Windows 7 displays Windows logo backgrounds of all Windows versions right from v 1.0,  3.11, 95, 98, 2000, ME, XP, Vista & Windows 7.
Check it out. You can always customize the walls, windows colors, sounds to your taste.
None of the wallpapers are my creations. In fact, came across most of them here.
Download Windows Nostalgia Theme for Windows 7.
You can also always extract the wallpapers and use them individually of you wish on your computer.