Windows 11/10 OS keeps all the important system files, exe, and DLLs inside the System32 folder. These programs are indirectly or directly accessed by both users and the OS, but if they are missing, you will receive an error— %windir%\System32\abcd.exe on Windows 11/10. This applies to the following but not limited to these programs
systempropertiesadvanced.exe
rundll32.exe
optionalfeatures.exe
systempropertiesprotection.exe
msdt.exe
taskmgr.exe.
Windows cannot find Windir System32 exe
Fortunately, it is easy to fix and restore the programs if they are missing from the system folder using System commands. All you need is an administrator account to run those commands
1] Edit Environmental Variables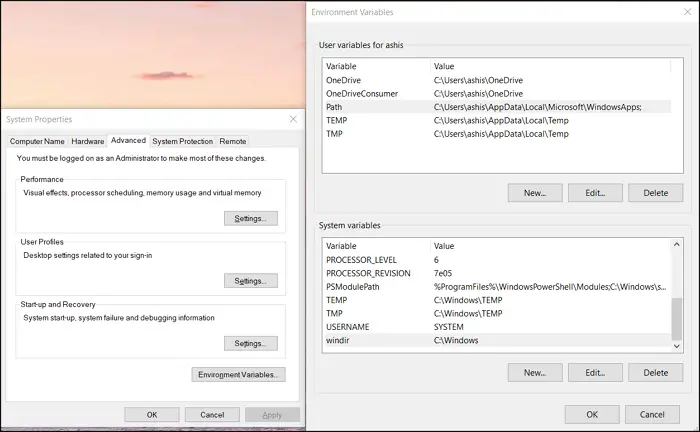 Before we go ahead, there is one important thing you need to check.  If you are trying to run the programs directly, but the system path to the directory is set incorrectly, then the fix is rather easy. The programs are many a time accessed using %WINDIR%.
Press the Start button, and type environment variables in the search box
When the option— Edit the System Environment Variables —appears. Click to open it.
Click on Environmental Variables in the Advanced tab
In the next open window, under System variables, locate windir. It should be set as C:\Windows, where C is the partition where Windows is installed.
Anything else, you will need to change it to the correct directory.
2] Run System File Checker to Restore the Windir System32 EXE files
Now that you are sure that there is no problem with the path and the files cannot be directly accessed, it's time to run the SFC or System File Checker command. This system tool can check if any system file is missing or corrupted, and replace it.
Open the Run prompt using Win + R keys. Type CMD, and then press the Shift+Enter key together to launch the Command Prompt with admin privileges.
Execute the following command
sfc /scannow
If a file is missing, then you will receive an error message which would say—
Windows Resource Protection found corrupt files and successfully repaired them. Details are included in the CBS.LOG file.
Post this you will be able to directly launch the program either by directly typing the exact name or using the full direct path.
NOTE: If you see this error message occurring for a third-party program, then you should consider reinstalling the program.
I hope the post was helpful.