Whenever an organization plans to enroll its old devices for an up gradation, it passes through the usual wipe and load process. This task is cumbersome. There appears no simple solution to customize this end user experience. Fortunately, things are changing a bit with Windows AutoPilot deployment program.
Windows AutoPilot in Windows 10
Windows AutoPilot feature can be used in Windows 10 Deployment to setup & pre-configure new devices, as well as to reset, repurpose & recover devices. It has been designed to bear all the hassle of setting up a new Windows 10 PC by allowing PC vendors to link a device to an organization. Once, the connection has been enabled, the machine can be linked to Microsoft services like Azure Active Directory, enrolled in Intune and so forth. In short, Windows AutoPilot Deployment Program will do almost everything for you, automatically.
This juicy new feature is therefore intended to make the process of setting up a business PC a breeze. This could help accelerate Windows 10's adoption since anything that is capable of simplifying the deployment of a new OS is obvious to become popular.
More importantly, Windows AutoPilot is a Cloud-Driven scenario, so you need to pre-register devices. When registered, your devices will be fully configured at no additional cost and with no additional intervention required on the users' side. Configuration can be completed in few simple steps. These include,
Selecting a language and keyboard layout
Connect to the network
Providing email address (the email of the user's Azure Active Directory account) and password.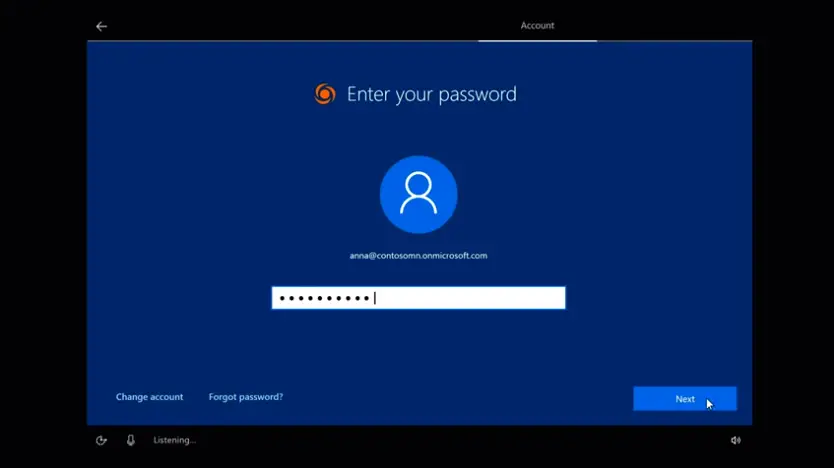 A good feature about the configuration setup is that multiple additional settings are skipped since the device automatically recognizes that it belongs to an organization. Following this, the device is joined to Azure Active Directory, enrolled in Microsoft Intune (or any other MDM service). Enrollment in the second holds a key since it ensures relevant policies are applied, necessary apps are installed, and important settings are configured on the device. Also, Windows Update for Business applies the latest updates to ensure the device is up to date.
Benefits of Windows AutoPilot
You will agree, IT Pros have to spend a considerable amount of time on building and customizing images to be deployed later to devices with a perfectly good OS already installed on them. Windows AutoPilot marks a departure from this via its innovative approach to automation. The only interaction required from the end-user is to connect to a network and to verify their credentials. While from the users' perspective, it only requires few simple steps to make devices ready for use.
If you are interested, you can get a further overview of Windows AutoPilot deployment in this video from Microsoft Mechanics:
In addition to the above, Windows AutoPilot allows you to:
Restrict the Administrator account creation
Create and auto-assign devices to configuration groups based on the devices' profile
Customize OOBE content specific to the organization
You can read more on this subject at Microsoft.com.