If you have your Windows computer set up to sync files with a network server, Windows 11 or Windows 10 Sync Center will allow you to check the results of your recent sync activity. Its a tool for giving you access to copies of your network files even when your computer isn't connected to the network.
How does Windows 11/10 Sync Center work?
Sync Center in Windows 11/10 lets you store files for computers connected to a particular network. Sync Center allows you to keep information in sync between your computer and Files stored in folders on network servers. These are called offline files because you can access them even when your computer or the server is not connected to the network. For more information, see Working with network files when you are offline. It allows you to sync between your PC and certain mobile devices that are compatible with Sync Center.
Configure Files in Windows 11/10 Sync Center
To configure files in Windows 11/10 Sync Center, follow these steps:
Search for sync center in the Taskbar search box.
Click on the individual search result.
Click on the Manage offline files option on the left side.
Click the Enable offline files option in the General tab.
Restart your computer.
Switch to the Disk Usage tab.
Click the Change limits to change the limits.
Go to the Encryption tab.
Click the Encrypt button.
To learn more about these steps, continue reading.
The first step, a user is required to do for syncing the folders over the network is 'Enable' the offline files. For this, press Win+X in combination chose 'Control Panel' from the list of options, type 'Sync Center' in the search field, and hit 'Enter'.
Thereafter, click the 'Manage offline files' link highlighted in blue in the left column of your computer screen.
Once done, you will see an Offline Files window popping up on your screen. You are switched to 'General' tab by default. Here, check if the offline files are enabled or not. If not, click Enable Offline Files and click on OK.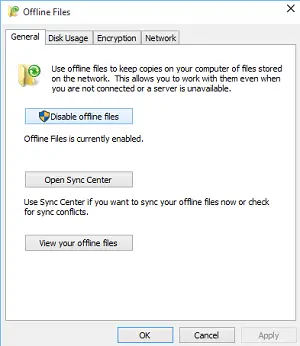 When done, your computer will restart. Now, navigate to the Offline Files as per the procedure described above. You will have other tabs available on the Offline Files window.
For configuring files in Windows 11/10 Sync Center, switch to Disk Usage tabs in 'Offline Files' section. It will display you the amount of disk space occupied currently, alongside available space for keeping the offline files on your PC.
For changing the data limit, click on Change limits buttons. Instantly, an Offline Files Disk Usage Limits window should appear offering 2 options
Offline files
Temporary files.
To fix the required limit, adjust the slider. Use the slider and set your required limit. Then, click OK.
In addition to this, if you would like to provide a layer of security to your offline files, encrypt them.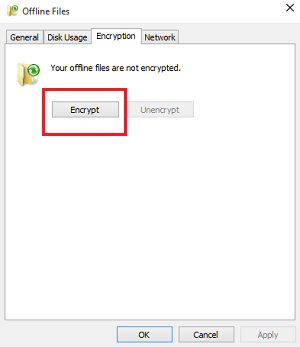 That's it!
How do I sync Sync Center files?
Sync Center shows two options – Sync and Schedule. You can use either option to sync Sync Center files on Windows 11/10 computer. If you click the former option, it will start synchronizing your files immediately. The latter option lets you choose a time when you want to start synchronization.
Hope it helped!
Read: How to make Network files Always Available Offline on Windows.