Windows 10 QoS or Quality of Service is a terminology that means how any network-related device manages data traffic to reduce the loss of data, packet, latency, and jitter on the net. It can control and manage network resources based on priority. Windows 10 has a QoS setting that can increase or decrease network speed. If for some reason, it's not working, here is how to fix Windows 10 QoS not working situation.
QoS settings not working in Windows Server, Windows 10/11
You need to carry out the following suggestions:
Reboot the computer.
Check similar Group Policy settings
Check Speed settings.
When you change QoS settings, and the changes don't apply, here is what you can do to fix it.
The QoS policy settings are available under Group Policy Settings. Type gpedit.msc in the Run prompt & hit Enter to open the Group Policy Editor. Next, navigate to:
Computer Configuration > Administrative Templates > Network > QoS Packet Scheduler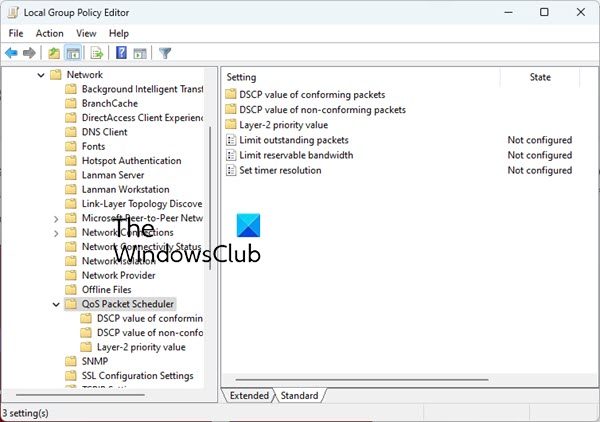 This post on microsoft.com will guide you on this issue.
1] Reboot the computer
The first thing you need to check is if you changed settings under Computer Configuration or User Configuration. If it's computer configuration, make sure to reboot. If you applied it to the user, make sure to log off and log on the user back.
2] Local (LGPO) vs Group (GPO) Policy
Double-check if there is a similar group policy that is preceding over. It will need a bit of searching, but they must be located around the same configuration.
3] KByte vs Kbit
If you are creating a new QoS policy, do note that the Policy Wizard uses KByte as the denominator, but we usually talk in terms of Kbit. Make sure there is no mismatch on that. Policy GUI wizard use KByte and usually we're talking about KBit.
Specify throttle rate:  Select the check box to enable throttling for outbound traffic, and then specify a value greater than 1 in either kilobytes per second (KBps) or megabytes per second (MBps).
If you run the command "Get-NetQosPolicy"  in PowerShell, look at the details of Throttle rate, and it must be in KBits/s. Lastly, QoS policies must be applied to both sending and receiving computers for the actual effects to take place. If you have a network of computer, make sure to apply them to all to get the real impact.
All the best!