The Disk Manager in Windows is an inbuilt feature that offers a user interface to manage disk partitions to administrators of the PC.  Many a time you need to change hard disk partition size, merge or reduce the size and so on. This is where the Disk Management tool becomes useful. Since the command-line interface for the same can be confusing, and risky, it becomes a huge problem if this tool stops working. We have seen reports of the Windows 10 Disk Management not working, loading, or responding, and in this post, we will share the possible solutions for the same.
Disk Management not working in Windows 11/10
We have suggested a few methods to address the issue. Please see which one of them helps you. You will need administrator privileges for all of these.
1] Restart the concerned Disk Management Service
Press Win key + R, and type services.msc. Hit Enter. It may ask for administrative privileges. This will open the Windows Services Manager.
In the services list, scroll down to Virtual Disk service. Double click to open it, and then choose Automatic for this. Again, click on Apply, and OK to save the state. You may also click on the Start button to start the Service, if it has not already been started, This Virtual Disk service provides management services for disks, volumes, file systems, and storage arrays.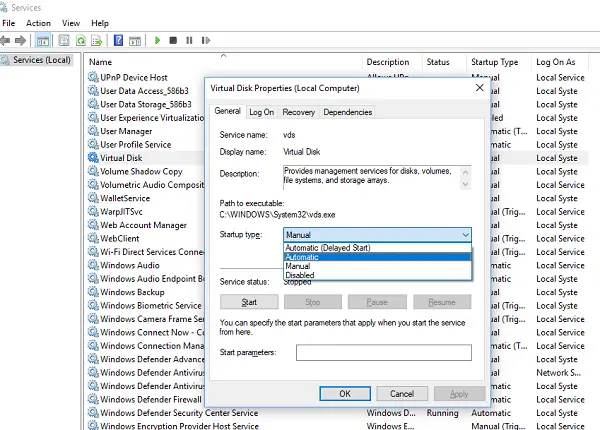 After this, save all your work, and restart your PC. Check if now you can open the Disk Management tool.
If it does not help, maybe the system files have been corrupted, and you may need to replace them with good OS files.
Related: Disk Management console view is not up-to-date
2] Use SFC Scannow or DISM Scan
The System File Checker in Safe Mode is a very popular built-in tool that you can use once in a while if your PC has multiple problems. It can fix corrupt system files on the PC and restore health as well.
In case the SFC command doesn't work, you can run the DISM tool which can also restore the health of the PC.
3] Use Diskpart & Fsutil
If sadly nothing works for you, you can try diskpart & fsutil command-line tools, but only if you know what you are doing or ask somebody who can do it for you. FSUtil and Diskpart are powerful, but not for the inexperienced Windows user. So do be careful, please.
The  Diskpart utility can do everything that the Disk Management console can do, and more! It's invaluable for scriptwriters or anyone who simply prefers working at a command prompt.
Among several other things, you can use Diskpart to do the following:
Convert a basic disk to a dynamic disk
Convert a dynamic disk to a basic disk.
Create a partition at an explicit disk offset.
Delete missing dynamic disks.
Windows also includes an additional command-line tool for file, system, and disk management, called Fsutil. This utility helps you to change the short name of a file, find files by SID's (Security Identifier) and perform other complex tasks.
4] Use 3rd-party freeware
If nothing works for you, you may use a free Partition Manager Software. They offer an easy-to-use interface and can make things easy for you.
All the best!