Rapid advances in technology have made it possible to explore the bodily structure of humans in ground-breaking 3D. Today, there are more applications than ever, capable of revealing the complete anatomy of the human body – however, only a handful are capable of diving through the layers using unique cutting and drawing tools. Windows 10 Complete Human Anatomy app supports all state-of-the-art tools and other features that can enhance the learning experience of medical professionals.
Complete Anatomy Windows App
Complete Anatomy is a perfect blend of intuitive design and human anatomy. The app transforms traditionally 2D learning material into 3D drawing with high accuracy & bring anatomy to life with special features and tools that in visualizing complex functions.
Please note that this app is a heavy download measuring approximately 650 MB in size.  When you download the app and install it, you'll see a screen as shown in the screenshot below.
You can start right away by using two fingers to zoom and pan across the 3 D model once you rotate the skeleton model in the picture.
Choose from the skeleton or connective tissue system at the bottom of your screen using '+' or ' – ' button to add or remove a layer. You can tap on any part of the model to learn more about it.
Alternatively, you can focus on a particular region of the body by tapping or choosing the 'Isolate body region' section visible at the bottom of the main screen and choose a region. When you do so, you instantly get access to over 1100 structures along with control over important tools like Explore and Multiple Selection'.
You can use the search function to search for the structure you are looking for and then select favorable option to display the structure in a variety of ways.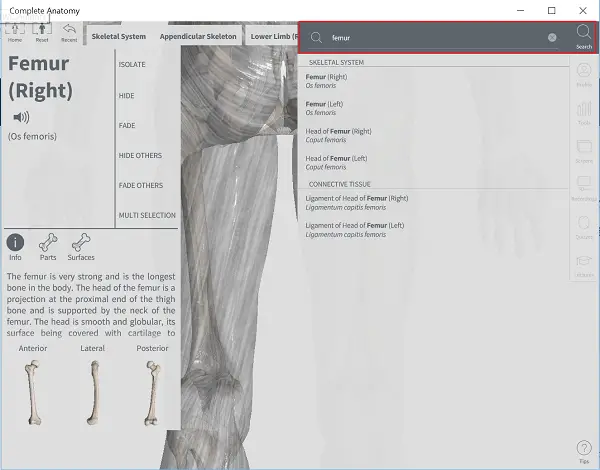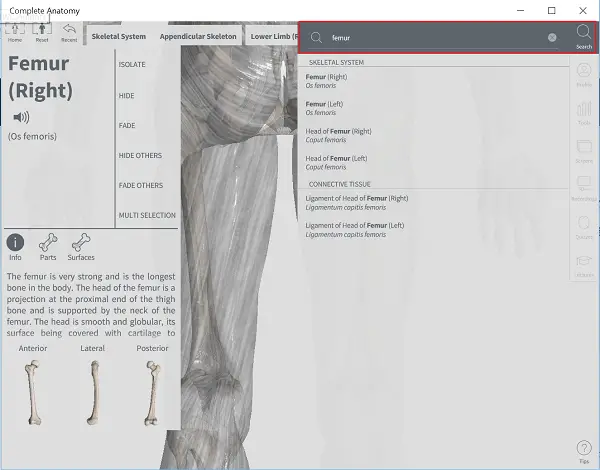 You can store your work in the cloud as the app features an in-app cloud-based platform that offers an easy way to share your content with other users or to your own private group.
There's a tools palette that can be accessed for customizing your model via unique cutting and drawing features of the app.
What's more special about this app is you can unleash the full set of features with an upgrade. The single in-app purchase unlocks lectures and premium content by top professors from leading universities. It helps you expand your knowledge and plunge into the depth of the subject.
All in all, Windows Complete Anatomy is a great app that helps medical professionals and lifelong learners interact with over 6,200 high-resolution anatomical structures in breathtaking 3D.
You can find more detailed tutorials of different parts of the body by clicking/tapping on the 'Tips' button residing at the bottom of the main menu of the app.
Download the free app today from the Windows Store. I am sure that you will learn a lot about your body!