When upgrading or building a computer, folks will from time to time make a few mistakes, and one of the most common mistakes is inserting the memory module in the wrong RAM slot. This usually leads to subpar performance; therefore, we have to discuss which RAM slot is the best to use.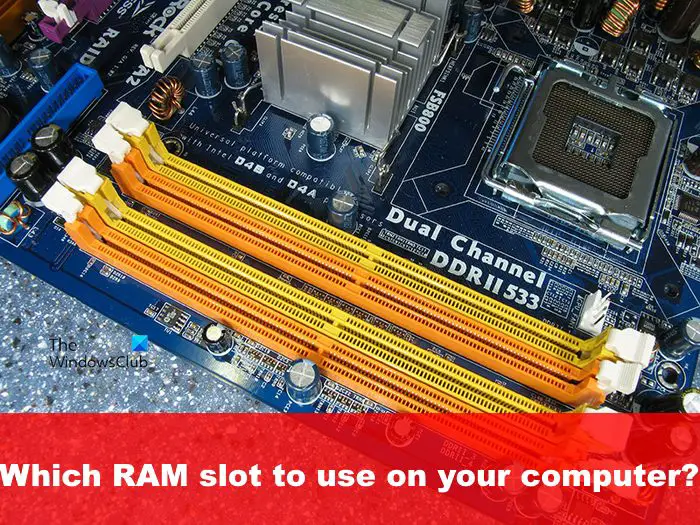 Overall, we have to answer the question about which RAM sockets to use, and whether or not it makes a difference where the RAM goes.
What is a RAM socket?
For those who aren't aware, a RAM socket is also known as a Memory Socket, and it can be found on the motherboard of most computers. These sockets, or slots, are usually arranged in a section of two or four, and they can house memory modules of varying capacity and speed.
In many cases, the RAM sockets are placed close to the CPU slot. This is to make it easier for the RAM and the CPU to communicate with each other faster than if they were further apart. Additionally, each socket has a hinge at the end of each designed to hold the memory in place.
Not only that but there is a riser along the partway of the memory socket to ensure that only memory modules compatible with the socket can be inserted.
How many RAM sockets are found on a motherboard?
The majority of computer motherboards for consumers at the time of writing are either two or four sockets designed for RAM. However, if a motherboard is of the most expensive variety for gamers and professionals, then chances are they might have up to eight sockets.
If more than eight sockets exist, then chances are some of those slots were reserved for high-end computer systems or servers.
We must point out that each RAM slot has a maximum memory capacity, and it generally stands between 8 and 32GB. So, as it stands, then, a 16GB memory stick will fit in an 8GB socket but expect only to have access to 8GB of the 16GB of RAM installed.
Why do RAM slots differ?
RAM slots differ so that users can tell where to add their memory sticks. The main difference is due to the numbering system, which means each socket has a special number. Now, this system isn't always the same across manufacturers, but in most scenarios, the numbers are A1, A2, B1, B2, and more.
Furthermore, RAM sockets tend to have different colors, and can be offset slightly from each other. As you might expect, this is to ensure that users add the memory in the correct position.
Bear in mind that older motherboards do not need these distinctions because they only support single-channel memory.
Which RAM slot to use on your computer?
Should it matter which RAM slot you're using? Yes, it should matter and that's because of multi-channel memory. Some motherboards support single-channel memory while others support multi-channel. You see, a computer system gets a performance boost when the CPU can access memory across more than a single channel, greatly increasing bandwidth.
The performance that is gained is the primary reason why the majority of RAM sold is done so in module pairs. You see, in order to fully take advantage of what multi-channel memory has t offer, RAM sticks must be placed in different channels. As one might come to realize, this is where problems arise for users because they often add modules to the wrong socket.
We suggest checking the documentation of the motherboard to locate the recommended RAM socket order.
READ: SRAM vs DRAM Difference explained
How many RAM slots exist on a PC?
If you look at your PC's motherboard, you will find the RAM slots close to the CPU area. In most cases, you will find two, three, or four slots. But depending on the purpose of your computer system, you may even come across eight slots.
How much RAM does a motherboard support?
Depending on the purpose, a motherboard can support anywhere between 8GB to 32GB of RAM overall. You will not find this much on older motherboards even if you tried, so if your computer is old, then consider upgrading if you can.