In the early days of Windows, Microsoft created a format called Rich Text Format so Word files can be opened on any platform. It was and is still supported by a lot of editors, which allow them to edit and read those files. A file that has an extension, i.e., ending with ".rtf," is an RTF file. In this post, we will learn about the RTF file format and how you can open it.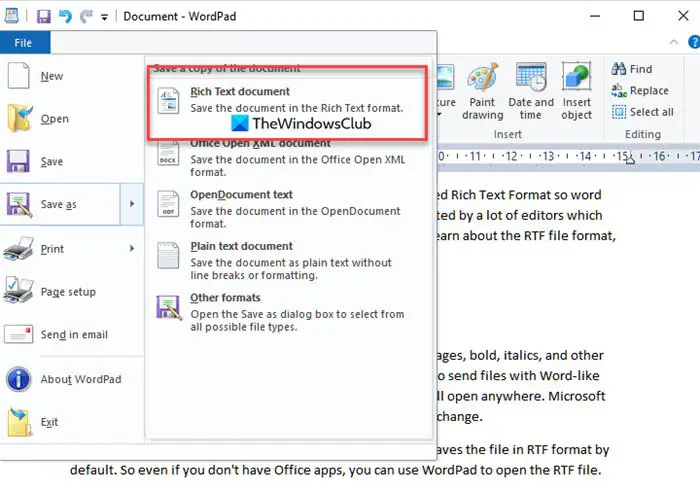 What is the RTF file format?

RTF format was created so it can support elements such as images, bold, italics, and other formatting styles. Notepad is plain text, while those wanting to send files with Word-like formatting capability can save the file in RTF format, and it will open anywhere, i.e., macOS and Linux. Microsoft created this format in 1987 for cross-platform document interchange.
All Windows versions have an application—WordPad, which saves the file in RTF format by default. So even if you don't have Office apps, you can use WordPad to open the RTF file.  That said, the format is not officially supported by Microsoft and was discontinued in 2008, but it is still widely used.
How to open an RTF File?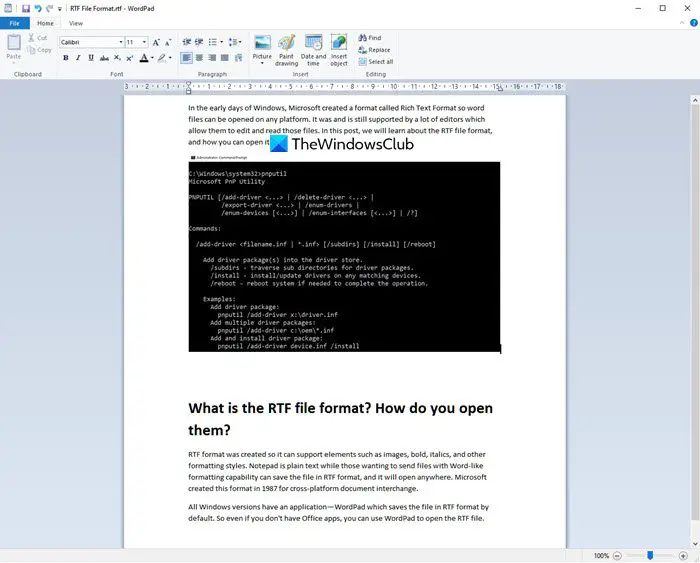 If you are on Windows, double click on the file, and it should instantly open it in the WordPad application. Since it is preinstalled, you don't need to install anything open. You can even open it in Office Word application if you set it as default or choose to open it.
If you are using some other platform, then there is a bright chance that the default editor of that platform should be able to open. Otherwise, you will need to install third-party applications.
For example, TextEdit on macOS can open the RTF file. On Linux, you will have to install a third-party app, such as LibreOffice, to open the RTF file.
Applications that can open an RTF file
Applications such as LibreOffice, AbiWord, OpenOffice, online apps like Dropbox, OneDrtive, and Google Drive allow you to view the RTF file. So if you cannot open it on the computer, upload it on one of the services, and you are good to go. Even for most of the smartphones, both iOS and Android are able to open the RTF file with a tap.
How to convert an RTF file into other formats?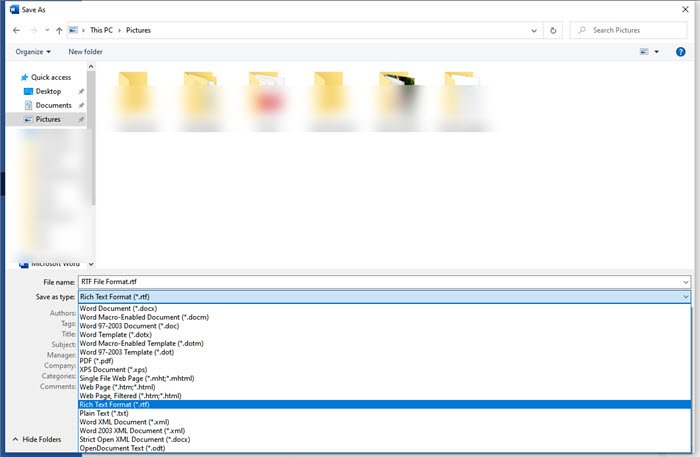 To convert an RTF file, you will need an application such as Microsoft Office on Windows or LibreOffice.
Once you open the file, you will have to save it as a new file, and then choose a new text format that supports RICH Formatting.  You can convert to a DOC file or OpenDocument Text format and so on.
I hope the post was easy to follow, and you are not only able to understand the whereabouts of the RTF format, but also open and convert it.