If you open Task Manager, you might see a process named splwow64.exe running on your Windows 11/10 device. You may be wondering what this process is all about and why is it running on your device. In this post, we unravel the splwow64.exe process on Windows 11/10 and how to disable it.
What is splwow64.exe process on Windows 11/10
As shown on the lead-in image above, the Background processes section where the splwow64.exe process is listed, details programs that probably aren't visible on your desktop. These include processes installed by other programs, such as self-update utilities, Windows components, and "suspended" Windows Store apps.
We will discuss this topic in this section under the following subheadings:
What is splwow64.exe in Task Manager and why is it running?
The splwow64.exe is a Windows process created by Microsoft itself that is meant for connecting and managing printer spooler services. This particular process in the Task Manager, is listed as Printer driver host for 32-bit applications. What this means, is that, the splwow64.exe process is used for connecting 32-bit printer applications on a 64-bit Windows OS. The splwow64.exe process is automatically triggered by Windows when your device is using 32-bit printer drivers – the process is supposed to terminate itself as soon as the printing job is done.
So, if your device is connected to a 32-bit printer and in Task Manager, the splwow64.exe process is running, then there's nothing to worry about. However, if there's no printer connected and it appears that the splwow64.exe process is persistently running in Task Manager, then you should get rid of the process so as to prevent any potential performance issue it might cause on your device.
Read: Splwow64.exe System Error when printing
Disable Print Spooler to terminate splwow64.exe process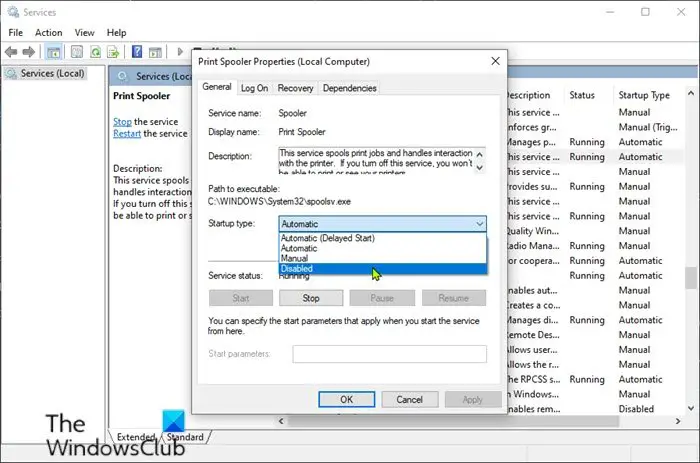 At times, the Splwow64.exe process stays in the memory for additional time to increase system performance after a print job is finished. It does not end as expected when a print job is finished. You have two options:
Disable Print Spooler Startup type
Change Timeout value.
The expected normal behavior is that the splwow64.exe process should terminate automatically as soon as your print job completes – but if the process is still running in the Task Manager, it might become an error and can crash on your device – to prevent this, you need to set the Print Spooler Startup type value to Disabled to terminate the splwow64.exe process. Here's how:
Press Windows key + R to invoke the Run dialog.
In the Run dialog box, type services.msc and hit Enter to open Services console.
In the Services window, locate the Print Spooler service.
Double-click Print Spooler to edit its properties.
In the Properties window, click Startup type and select the Disabled option from the drop-down list.
Click Apply > OK to save changes.
Exit Services window.
Reboot computer.
On boot, open Task Manager and check whether the splwow64.exe process is still running in the background.
If you see this happening frequently, you can also configure its time-out value as follows:
Open Registry Editor and navigate to the following key:
HKEY_LOCAL_MACHINE\SYSTEM\CurrentControlSet\Control\Print
Create a new DWORD Value, name it SplWOW64TimeOutSeconds and enter a value greater than 0 in it.
Says Microsoft,
The Splwow64.exe process is unloaded when the number of seconds that is specified in SplWOW64TimeOutSeconds elapses since the last 32-bit print process has closed. Therefore, when a service process prints, the print capability is not released until the service closes and at least the time that you specify in the Value data box passes. For example, if you type 15 in the Value data box, and the last 32-bit process takes two minutes to print and close, the print capability is released between two minutes and 15 seconds and two minutes and 30 seconds. If no time-out value is specified, the default time-out value is two minutes.
Hope this helps.
Read next: Difference between System32 and SysWOW64 folders.