Although we may deal with dozens of file types daily many of us might not know what is a DSS file or what it stands for. If you belong to this category of people, read this tutorial to get some of your questions answered.
What is a DSS file?
The file extension ending in .dss stands for Digital Speech Standard (DSS). It is a proprietary audio compression format jointly developed by Olympus, Philips, and Grundig.
This format finds its use widely in digital dictation recorders to store audio voice data or dictation and transcription files in a highly compressed format. As such, .dss files are data files rather than documents or media.
How to Convert a DSS file or Play it on Windows 10?
It is not possible to play DSS audio files with regular media players like VLC player and Windows Media Player. Since the format is a proprietary format and you first need to convert it to MP3 first. You can download and install the DSS Player Standard R2 or use Online DSS File Viewer to play it directly.
DSS Player Standard R2 Freeware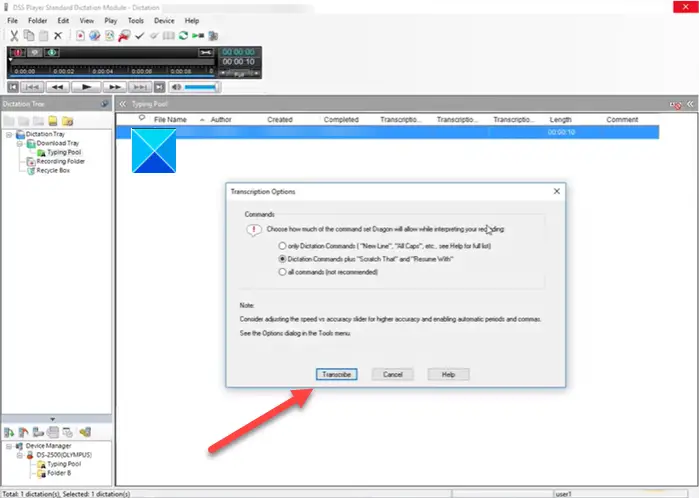 You need to download and install suitable software like DSS Player Standard R2 to open a DSS file. Without proper software, Windows will display an alert message reading 'How do you want to open this file?'. If you have DSS Player Standard R2 installed, right-click the file. Then click 'Open with' and choose DSS Player Standard R2.
The other option you have is to convert the file into an MP3 file and then use it.
Online DSS File Viewer

You can simply choose to drag and drop your DSS file in the Online DSS File Viewer by going here.
Once the conversion is done, download it, print it, or share it as you may deem fit.
Nowadays, DSS is being less used in modern voice recording equipment. Instead, users prefer the better version of DSS i.e., DSS Pro (ds.2). It achieves a high compression ratio, has a better sound quality, and supports file encryption (AES).