Sending an SMS from one mobile to another is a very common practice these days and it works fine if you want to send a few of them. But what if you want to send several of them to many? An SMS or Short Message Service helps users to send a text to someone without any internet connection. Different carriers charge different rates to send an SMS. In case you need to send SMS to a lot of people but do not want to spend you can make use of these websites to send unlimited/anonymous SMS to mobile for free.
You have to remember that when you use these websites, you give out yours, as well as your friend's mobile numbers. These will remain in their data bank, and they could well be spammed in the future if the sites sell their data to some interested parties.
How to send unlimited anonymous SMS Text to mobile phones
All of these websites work quite similarly. In other words, you can use any of them to send free unlimited SMS to any mobile network.
1] Way2SMS

Way2SMS is a very old and reliable online SMS sending service that allows you to write up to 140 words in a single message. After completing the sign-up process, you need to enter the mobile number and the desired message. The best part is you can save all the numbers in the contact list. Another useful feature is Group SMS, and it does what it says. Although they claim that their messages get delivered within 10 seconds, it took around 2 minutes to get a message while testing. Another useful feature of Way2SMS is you can create various templates, e.g., Good Morning, Happy Birthday, etc.
2] YouMint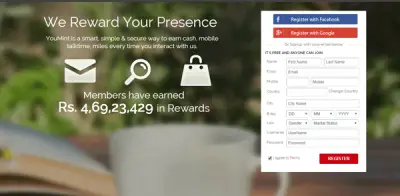 YouMint is yet another free website that lets you send unlimited SMS to any contact you want. You need to signup for an account with your Facebook account or any other email ID. You then need to enter the mobile number along with the message. Talking about the features, you can get different SMS templates. This tool also has the option to save any number in the contact list. Another important thing is you can earn free recharge and more whenever you make significant movement on the site.
3] TextEm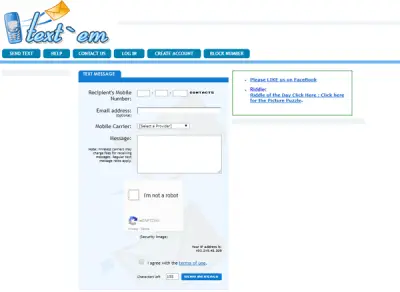 If you live in the US, TextEm is probably the best option for you when you need to send SMS to any mobile. It supports almost all the carriers in the US. On the website, you need to enter the recipient's mobile number, email address, choose a mobile carrier, and message of up to 155 words.
4] Send Anonymous SMS

SendAnonymousSMS is a website where you want to surprise someone with an SMS from an unknown number. The website uses their own SMS gateway to send the SMS. The best part is that you can send SMS to any country and any mobile network. All you need to do is to enter the recipient's mobile number and the message that you want to send. The word limit is 145 characters.
5] txtDrop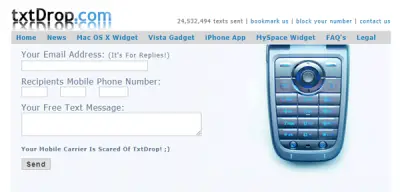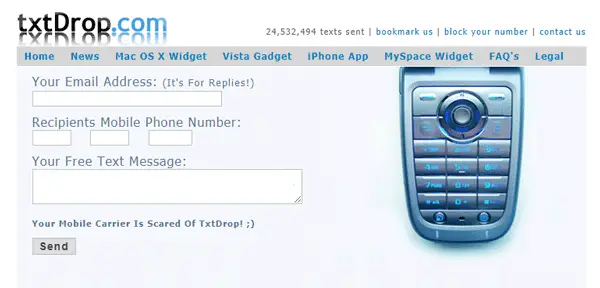 This site lets you can send unlimited free SMS to any mobile number across the globe. During my testing, I found that txtDrop.com failed to send an SMS to a Vodafone (British company) number. Otherwise, it worked pretty well. Another problem with this tool is that it takes too much time to deliver the SMS. But, the simple user interface has made it popular. To use this website, you do not need any account. Just visit the official website, enter your email ID (to get the reply), recipient's mobile number and your desired message.
TxtEmNow, TextForFree and SeaSms are other similar online services that allow you to send unlimited anonymous SMS Text to mobile phones in any country & mobile carrier.
There are several other websites to send SMS to mobile phones across the world, but I have these tools, and they seem reliable with a high percentage of success rate.