The Internet is full of data and information. The information we share every day on the web can be categorized mainly into two types – text and multimedia. Since the advent of Social Media, the usage of multimedia content has been increasing like never before. The problem here, though, is that we depend upon more than one service for audio and video. For video sharing, we use services like YouTube and Vimeo; while to listen and share audio, we use sites like SoundCloud. Even though YouTube hosts audio content, it isn't a great idea to use it all the time for the sake of listening to music as streaming, consumes more data packets than an audio file. Instead, wouldn't it be nice to have a place from where we can search and access both video and audio files from the above services on the go?
Fortunately, there is an answer to that question, which is called as Web Media Center. The great thing about this web service is that not only it solves the above problem, but also it packs many useful tools under one roof which involve audio processing.
Web Media Center – Online Media Tools
The Web Media Center has many useful tools combined at one place – a media player, a sound recorder, a speech recognition program, and a text to speech converter. The great thing about this is it is a web service. So you can use all of its functionalities on your browser on the fly without installing anything into your system. Let's take a look at each of the features in detail.
The Player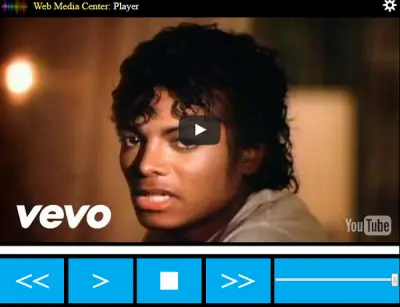 Among all, this is the most useful tool for many people. This compact player plays Audio and Video files supporting many formats including MP3, WAV, H.264/AVC/MPEG-4 Part 10, M3U, PLS etc. There are two great features in this player which you wouldn't find elsewhere – one, the ability to add files from various sources. You can add file (or a playlist) from your computer, by URL, or from your Google Drive along with from popular services like YouTube, Vimeo, Dailymotion, and SoundCloud. Two, this player offers the searching option using which you can find and play your favorite audio or video track from YouTube or SoundCloud right then and there. I wish instead of individual search boxes for each service, it would be great to have a single search bar which would combine the search results from all the services and displays at one place. Apart from that, this player works smoothly.
Sound Recorder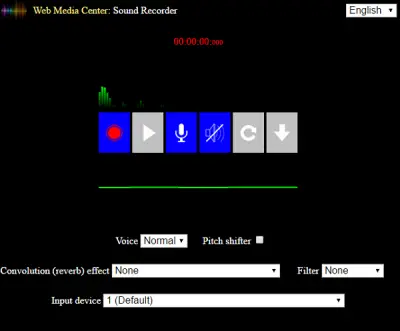 Using this Sound Recorder, you can record some sounds and save it locally to your computer. The nice thing about this recorder is that it provides a lot of customization options to play with such as – changing of voice, altering reverb effects and filters from options. You can also record sounds using 1 or 2 or 3 input devices which would help especially if you want to store a communication for future reference.
Speech To Text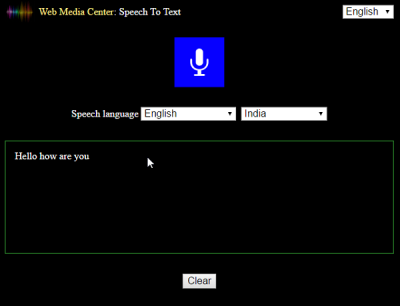 As the name implies, speech to text allows you to convert what you speak to text. To start using it, unmute the voice icon there, allow access to your microphone and you are good to go. The great thing about this tool is it offers many languages. Fun fact, though, there are sub-options for the English language with the varying accent. So basically you can change it to US English, UK English, Indian English and so on. The conversion works instantly and smoothly.
Text To Speech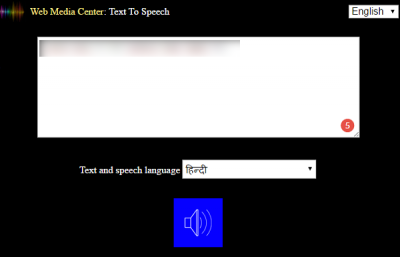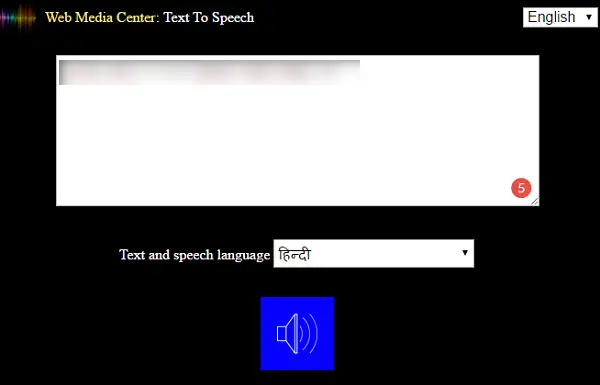 Using Text To speech, you can convert typed text into speech and listen to it. This would be a great accessibility feature at times when dealing with challenged people. This tool offers various languages and different voices with various accents. You change the language present below using the drop-down, type the text and hit the speaker icon to listen what you've typed.
Go visit its home page to check it out. Web Media Center is available for Chrome as an extension. You can also add Web Media Center Player tool to your website as a widget, using which your visitors can play audio and video.