Everyone on the web must have used Skype at least one, and many must have thought about the idea of changing their voice online while chatting with a friend or family member. Well, with a software called VoiceMaster, it is possible to do so with ease.
VoiceMaster for Skype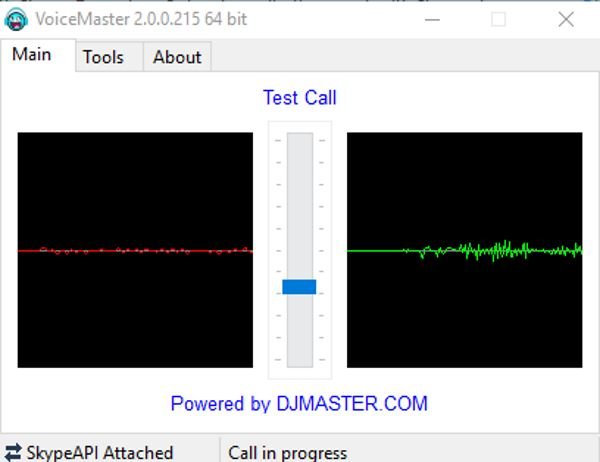 With VoiceMaster, computer users can take advantage of the ability to change their voices in many ways. The voice effects offered with this software reminds us of our younger days when we used to prank call several unsuspected strangers and even neighbors.
Change your voice during call
To get VoiceMaster on your computer system, visit the official website right here. You would likely become a bit confused with the design of the homepage, and we won't blame you for it. The main page is ugly with 7 icons that run from the top to the bottom.
These icons do not have names beside them, so if a computer user does not have the slightest knowledge of what to do, they'd be left confused and probably decide to drop out.
To find VoiceOver here, just click on the blue smiley face with the headphone. That should bring users to the download page. The file size is little over 2MB, so even a slow internet connection should quickly gobble this down.
How to use VoiceMaster
After the installation, we can say without a doubt that this program is very easy to use. The user interface is simple with just a single button to change the pitch. Just slide it up and down to change the sound of your voice when chatting on Skype. Bear in mind that users must launch Skype give it permission to work alongside VoiceMaster.
Once that level of trust has been established, just make a call, and VoiceMaster will automatically come into play. At the top of the user interface, folks should see three tabs:
Main
Tools
About.
Click on the Tools tab to stop VoiceMaster from starting automatically each time the system boots. Users can also allow the program t be always on top, or to hide once minimized.
Also, from this section, users can uninstall the program, so there's no need to venture off into the Control Panel to get it done.
Overall conclusion:
VoiceMaster brings nothing new to the table, but that's fine since it does its job really well. However, we have to talk about the few instances where the program just up and crashed. We can't be sure if that is an error on our part, but you can find out for yourself. It is available as free download from its home page.