When it comes down to downloading Torrents on the web, for many, uTorrent is the best software for the job. It's been around for years and trusted by many despite competition from all angles. We must point out that uTorrent has changed a lot over the years. It's now packed with a ton of features, many of which are locked away behind a monthly paywall. Additionally, the software is no longer the smallest client in terms of file size.
As it stands, then, if you're just interested in downloading torrents and have little problems with advertisements within your software, then uTorrent is still the best in the business. But you know what, sometimes the best in the business has problems, and we're going to talk about a specific issue today.
It seems like uTorrent is already running, but not responding. Please close all uTorrent processes and try again.
Here's the thing, some users have come across a problem with the torrent client where it's failing to respond on Windows 10. No one wants a thing like this to happen while preparing themselves to download a hot new torrent file.
Before you go ahead and switch to another, how about attempting some of the fixes we're going to mention below?
uTorrent not responding
There are several things that could be the cause of your uTorrent software failing to respond. However, from what we've come to understand, the latest issue is likely caused by a virus that was brought on by the file you've downloaded.
1] Delete the downloaded file
The first thing to do is to venture off to the folder where the file is located and promptly delete it. No point in keeping it around if it's the cause of all your problems, right? Good. Now, after deleting, be sure to empty it from the Recycle Bin and get rid of it once and for all.
2] Scan your system with Windows Defender
Launch the Windows Defender security app by clicking on the Windows key + I, then Update & Security. Click on the option that says Windows Security, then Open Windows Defender Security Center.
Alternatively, if the security software is already running in the background, then you can easily right-click on the icon located on the Taskbar, then click on View security dashboard.
After launching the software, click on Virus & threat protection > Run a new advanced scan. Finally, make sure Full Scan is selected from the menu, then hit the Scan Now button.
You could also choose Windows Defender Offline scan if you prefer to have a better chance at locating the possible virus. Bear in mind that this option will automatically turn off your computer system, and it could take up to 15 minutes or more to get the job done.
If you are using a 3rd-party antivirus software, you may use it to scan your computer.
3] Allow uTorrent through Windows Defender Firewall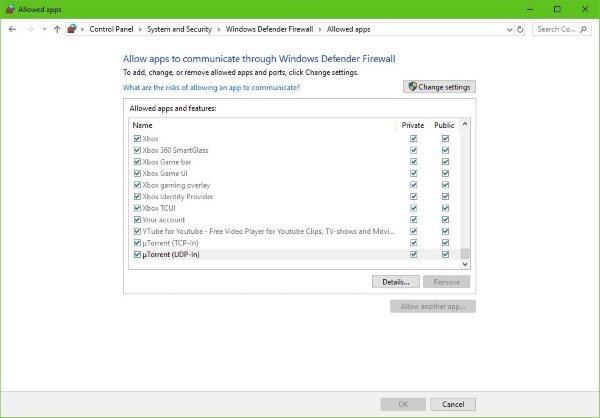 What you need to here is click on the Cortana button, then type Firewall into the search box. If there's no button, click on the Start button then begin typing right away.
You should see something that says Allow an app through Windows firewall. Click on it, and a new window will appear. This window should have a list of apps that can be allowed or disallowed, so just search for uTorrent and set it to Public if you're on a public network, or to Private, if you're on a private network.
Read: Fix uTorrent is not working with VPN.
4] Uninstall & Reinstall uTorrent
You could completely uninstall uTorrent, restart your computer and then fresh-install the latest version of uTorrent and see if that makes the problem go away.
If you wish you may copy your user data from C:\Users\<username>\AppData\Roaming\uTorrent and save it to another location and restore it after the fresh install.
4] Switch to a uTorrent alternative
If everything above fails, then we'd like to recommend switching to a uTorrent alternative like qBitorrent. It's one of the best available today, and it doesn't come with any fancy features. Through and through, it's simply a client for downloading torrents.
We should also point out that downloading some Torrents may or may not be legal. Therefore, you should check the laws of your country to find out if you can do so without facing possible repercussions.