Microsoft Edge browser will update itself automatically via Windows Update. The update process happens in the background, so it doesn't affect any ongoing work. Updating the browser assures users are protected by the latest security & feature updates. You can also update it manually should the need arise as follows:
Launch Edge (Chromium) > Settings & more (3-dots) > Help & feedback > About Microsoft Edge.
If you receive Component not updated error for Edge, then you can use the Edge Components page to check Edge components individually and update them. This is similar to the Chrome Components Page.
Update individual components of Edge browser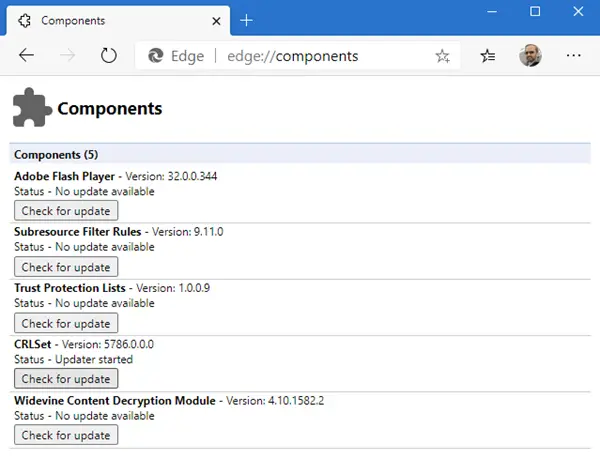 If you notice that the Edge browser crashes frequently, following a new update, chances are Edge components responsible for controlling these events have not been either checked or updated correctly. Earlier, checking these components individually was not possible but the new Edge Chromium runs a dedicated page – Edge Components that allows you to update individual components of the browser and resolve the issue.
You can use the Chrome Components page to check Chrome components individually and update them. Here's how!
Launch Edge browser
Load edge://components/ page
Update the components individually
This procedure is similar to the one we follow to update individual Google Chrome components.
Open Edge browser, type the following in the address bar and hit Enter:
edge://components/
The Edge Components page will load immediately, enabling you to retrieve information about available components. As you can see in the image above, currently there's:
Adobe Flash Player – Necessary for displaying content that requires Adobe Flash Player.
Subresource Filter Rules  – The mechanism is responsible for filtering out malicious or dangerous content, like phishing and malicious links.
Trust Protection Lists – Allows or blocks third-party requests from specific domains.
CRLSet – It represents a list of revoked certificates that get pushed to the browser as a software update. The browser relies on CRLSetsfor revocation checking.
Widevine Content Description Module –  It is mainly used to play DRM protected videos.  So, an error is seen when there's a problem playing DRM-protected HTML 5 videos
A 'Check for update' button should be visible if there's any update available for the components. Just hit the button to update the component.
That's it!