Figuring out which directories are most troublesome without reading the drive extensively can be a challenging task but, TreeSize Free shows you results instantly. The explorer add-on can be launched from the context menu of a folder or a drive and ordered to display the size of folders, subfolders, files and NTFS compression rates.
Scanning is done in a thread, so one can find results already being displayed while TreeSize Free is in functioning mode. The space wasted by the file system are made visible, and the results can be printed in a report. It is the graphical display that makes it easier to identify files and folders to be removed or compressed to reduce the size of a package.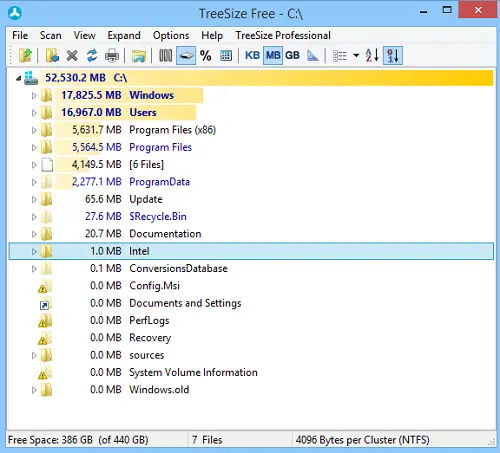 Display File & Folder sizes using Context Menu
The column view presents data related to large files and sub-folders in the Windows Explorer-like tree view. The gradient bar in the background visualizes the amount of disk space each folder or subfolder occupies. You can select which columns you would want to see and sort as per your requirements.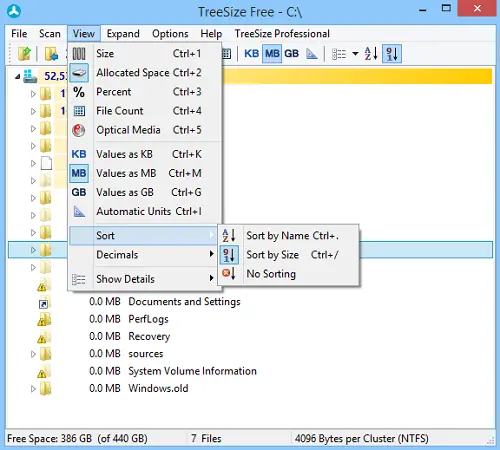 The second important item in the list is the "View" menu, where one can find all the tools essential for configuring scan results presentation options. You can select how the results shall be sorted, define the value in which the file and folder sizes be calculated, select the number of decimal places shown in size information, and toggle the columns or tree views.
The third item in the "Options" menu you can configure is the bar's color. You can also switch it off entirely. Most importantly, you can define how the free program should perform scans and control display of the information. For instance, NTFS compressed files and folders shall be highlighted or not, or should files be shown in the directory tree.
Find out: What is taking up space on my Hard Drive in Windows?
It is possible to break down the scan results into a certain level of information. TreeSize Free offers a highly-evolved pattern filter, enabling you to define precisely, how the scan results shall be filtered. As shown in the screen-shot below one can easily add or remove patterns and select how TreeSize should match them.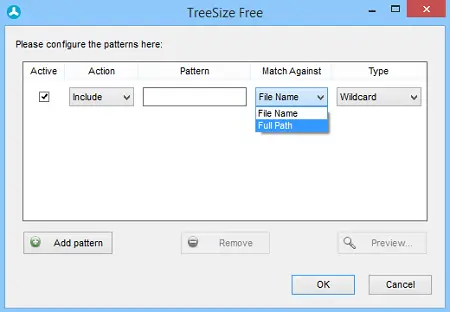 The latest iteration, like earlier versions, supports the Explorer context menu and drag & drop operations. However, there are some bug fixes, which get fixed regularly. So do remember to update it frequently. To do so, select "Help" and run "Check for Update…", wait for the popup message Uncheck the "Check for updates regularly" box.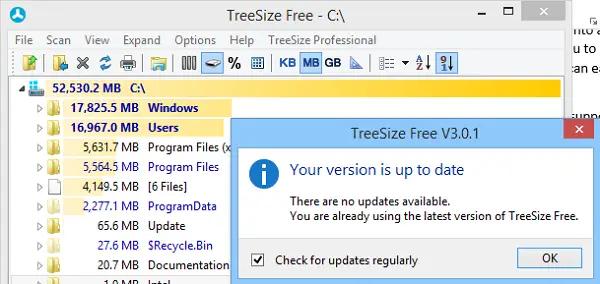 TreeSize free download
You can download TreeSize Free from its home page.