This post features solutions to fix The Steam Servers are currently unavailable error that you may see while trying to play a game. Steam is one of the most popular video game digital distribution platforms owned and operated by Valve Inc. But recently, some users have received the Steam servers' currently unavailable error message. Fortunately, you can follow some simple steps to fix it.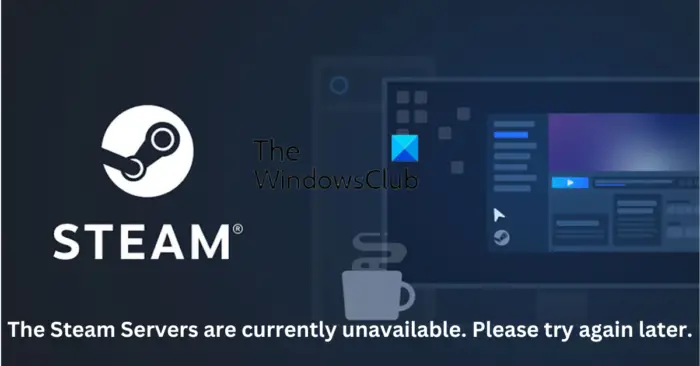 What causes The Steam Servers are currently unavailable error?
In most cases, users have reported this happens due to some error in Steam's servers. The primary reasons for this error could be:
Servers under maintenance or are facing a downtime
Corrupted Steam Files
Unverified Game Purchase
Fix The Steam Servers are currently unavailable error
Follow these steps to fix the Steam Servers are currently unavailable error that you may see while trying to play a game:
Change Steam Download Region
Delete Corrupted Steam Files
Check if your Recent Purchase was Verified
Check Steam's Servers
Now let us see these in detail.
1] Change Steam Download Region
Changing the download region to the closer servers can help increase Steam's download speed. Try choosing the closest server to your location, but change it if it's still slow. Here is how you can do it:
Launch Steam and navigate to Steam > Settings > Downloads.
Expand the drop-down below Download Region and select the closest server.
2] Delete Corrupted Steam Files
Updated or corrupted Steam files are also known to cause errors from time to time. Try deleting these files and check if the error gets fixed. Here's how:
Open File Explorer and navigate to the following path.

C:\Program Files (x86)\Steam\

Delete everything in the folder except steam.exe and steamapps directory.
Once done, restart your device and launch Steam to check if the issue is fixed.
3] Check if Steam verified your Recent Purchase
If the Steam Servers are currently unavailable error occurs while installing or launching a game; its possible Steam didn't verify your purchase. To fix this, log out of Steam, and restart the application. Once Steam restarts, log in by entering your username or password.
4] Check Steam's Servers
If none of these methods helped you, check Steam's server status. It's possible the Steam Client is under maintenance or facing downtime. Follow @Steam on Twitter to check if they've posted about ongoing website maintenance. If many people have the same issue, the server may face downtime.
Fix: Steam Service Error, The Steam Service error requires some maintenance
How do you fix There was a problem communicating with the Steam servers, Please try again later?
The easiest thing one can do to fix this error is to restart Steam by clicking on the toolbar and then selecting Exit Steam. Doing so will completely close the program. It can also trigger Steam to update sometimes, which may help with the server issue.
How do I fix Steam unavailable?
This indicates that the game isn't supported by your operating system. The minimum system requirements of every game are available on that particular game's page on Steam. However, if your device does meet the minimum requirements to run the game, try contacting Steam support with your concern.
Read: FATAL ERROR: Failed to connect with local Steam Client process.