If you see message That Fingerprint has already been set up on another account, Try a different finger, when you try to set up Windows Hello on Windows 10, then this post may be able to help you. Windows Hello is a security feature where you can use Fingerprint to unlock your account on supported devices.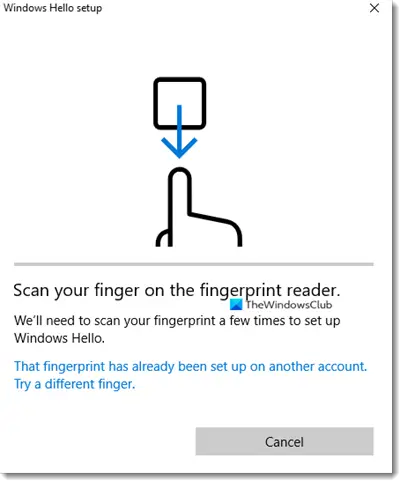 That Fingerprint has already been set up on another account
The error can occur because of multiple reasons. You might already be using it for an existing account, it can be stored in the BIOS/UEFI, and when Windows Hello verifies it, it throws an error.
Remove Fingerprint association from another account
Remove Fingerprint from BIOS
Remove and Add Device to Microsoft account
Delete files from WinBioDatabase
Reset Fingerprint driver.
1] Remove Fingerprint association from another account
It is possible that you may have used your Fingerprint with another account, maybe your kid's account, and then forgot about it. It is possible to register multiple fingerprint account, and that might be the case. You have two choices here. If the account is not in use anymore, you can choose to delete, or you can simply remove your Fingerprint.
2] Remove Fingerprint from BIOS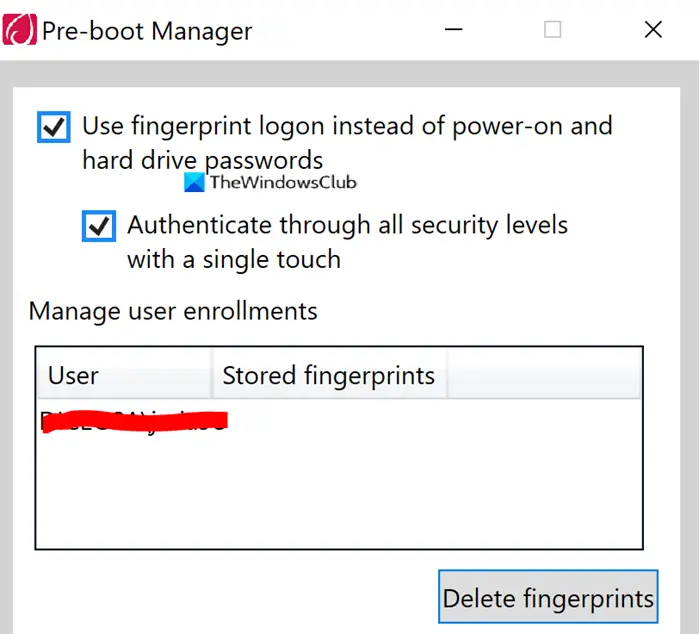 Some OEM store the Fingerprint into the BIOS, even if you delete the account, it cannot be reused. Depending on who the OEM is, you need to download the security software that can help you remove it.  For example. Lenovo offers SynapticsUtility.exe utility, which you can use to delete fingerprints stored to lock the Pre-Boot manager in the BIOS.
3] Remove and Add Device to Microsoft account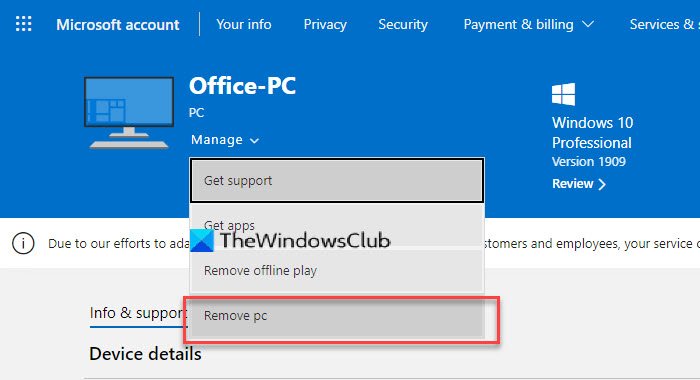 There is a small chance that the whole fingerprint setup is misconfigured, and it would be a good idea to remove and add the device from your Microsoft account. Go to the Microsoft Devices section, and choose to remove the device. It will trigger the re-authentication of your account on the device, and it might just fix things.
4] Delete files from WinBioDatabase
If your OEM doesn't store anything on their security chip, then the chances are that if you delete files from the WinBioDatabase folder, then it will resolve the problem.
Open Windows Services snap-in by typing services.msc in the Run prompt (Win +R) followed by pressing the enter key.
Locate Windows Biometric Service, right-click, and then stop it.
Open WinBioDatabase by going to
%windir%/system32/winbiodatabase
Copy all the files inside it to a different folder, and then delete those files from the source folder
Restart the Windows Biometric Service
Hopefully, you should be able to use the Fingerprint, and add it to your account.
5] Reset Fingerprint Driver
Remove the current Fingerprint from Windows Hello.
Uninstall fingerprint driver software from device manager
Restart your PC and reinstall the fingerprint driver software.
Setup the Fingerprint driver again and check if you can add the Fingerprint back.
Once done, you should not get the "That fingerprint has already been set up on another account" error anymore.