Many times we create shortcuts of our favorite sites, using Internet Explorer or any other browser. These shortcuts are generally in .url, .website, .htm format. In case you face a situation, where, in spite of clicking on the web shortcut, your browser does not open the target, then this post may help you in addressing the issue. You may be able to save the shortcut from a hyperlink, but double-clicking on it may not open the target! Moreover, you may even receive the following error message:
Problem with shortcut. The target of this Internet Shortcut is not valid. Go to the Internet Shortcut property sheet and make sure the target is correct.

The target of this Internet Shortcut is not valid
This recently happened in the case of Internet Explorer. If you examine the properties of the Internet shortcut file when this problem occurs, the Type of file field indicates that the file type is Internet Shortcut (.url). However, the Web Document tab may disappear. Also, on the Details tab, the URL string may disappear.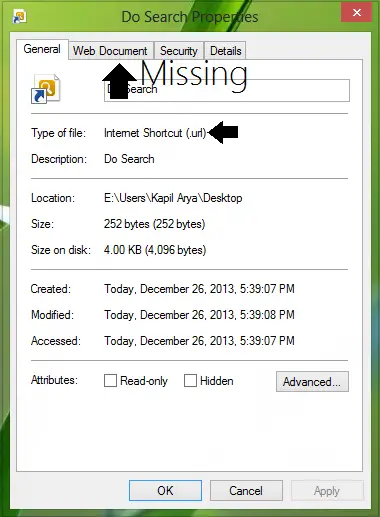 If you are facing this problem, this is how to fix this issue:
Make Target Accessible In Internet Shortcut Property Sheet
If you are opening links from the Desktop shortcuts, delete the old shortcut, create a new one and check; it should work on. But if you're opening links from favorites, follow this:
1. Press Windows Key + R combination, type put Regedt32.exe in Run dialog box and hit Enter to open the Registry Editor.
2. Navigate to the following location:
HKEY_CURRENT_USER\Software\Microsoft\Internet Explorer\Main\FeatureControl
3. In the left pane of this location, right-click on the FeatureControl key and create its subkey named
FEATURE_URLFILE_CACHEFLUSH_KB936881
by navigating New -> Key.
Now highlight the new subkey so created, and head on to the right pane of the registry location
HKEY_CURRENT_USER\ Software\ Microsoft\ Internet Explorer\ Main\ FeatureControl\ FEATURE_URLFILE_CACHEFLUSH_KB936881
and create a new DWORD value using Right-click -> New -> DWORD Value.
Name this new DWORD as iexplore.exe. Double click on this newly created to modify its Value data:
4. In the above-shown box, change the Value data to 1. Click OK. You may now close the Registry Editor so far and reboot the machine to get the issue fixed.
You may also simply download and use Microsoft Fix it 50698 to resolve this issue.