In this guide, we are going to discuss a free start menu alternative called SystemTrayMenu for Windows 11 or Windows 10. If you want to search and open files and folders with a click, this software is for you. You can easily browse and open your files from frequently used locations through this start menu alternative on your Windows 11/10 PC. Let us discuss this freeware in detail now!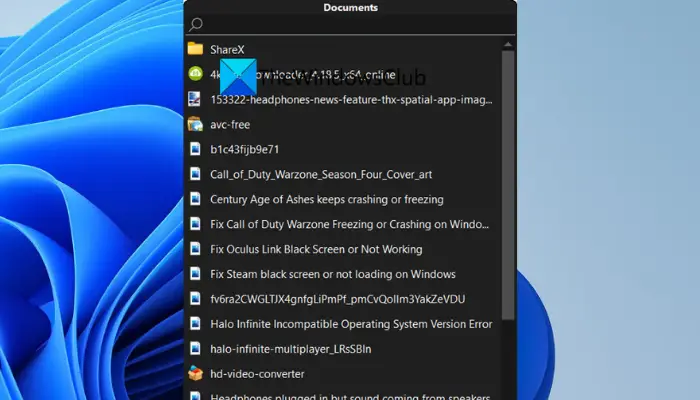 What is SystemTrayMenu?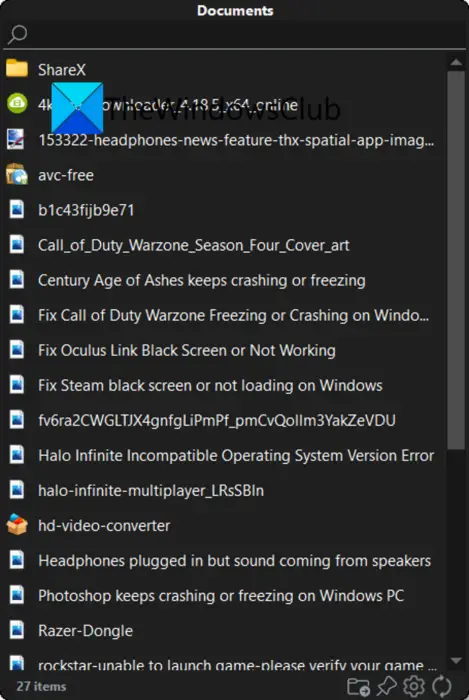 SystemTrayMenu is a free open source Start Menu alternative for Windows 11/10. It is a handy freeware that you can use to browse and open your files and folders within a few clicks. It is more like a personalized start menu where you can add custom root directories and then easily search files through the selected directories. You can add the folders that you visit frequently or work on often. Then, browse files from those selected folders.
As the name suggests, it stays in the system tray and you can use it whenever you need to search for your files. In it, files, folders, and links are arranged in different levels in the form of drop-down menus. Its source code is also available for the general public who can download, study, modify, and compile the source code as per their interest.
How to use SystemTrayMenu on Windows 11/10?
Here are the steps to use SystemTrayMenu as an alternative to Start Menu to browse and open files and folders on Windows 11/10:
Download the setup folder for SystemTrayMenu.
Extract the ZIP folder.
Run the SystemTrayMenu.exe file.
Select the root directory.
Start searching for files and folders.
Let us discuss the above steps in detail now!
First of all, you need to download this software. The good thing is that it is portable software. Hence, you don't need to install it on your PC. All you need to do is just download its setup folder from github.com, extract the ZIP folder, and then run the SystemTrayMenu.exe file to start using it.
When you first start this software, you will be asked to choose the root directory. Simply select the root directory from where you want to browse and open your folders and files easily. As you select one, it will start showing files in a hierarchy. You can also enter the name of the file or folder in its search box that you want to find and open.
Read: Remove Shutdown button from Login Screen, Start Menu, WinX menu.
Main Features of SystemTrayMenu: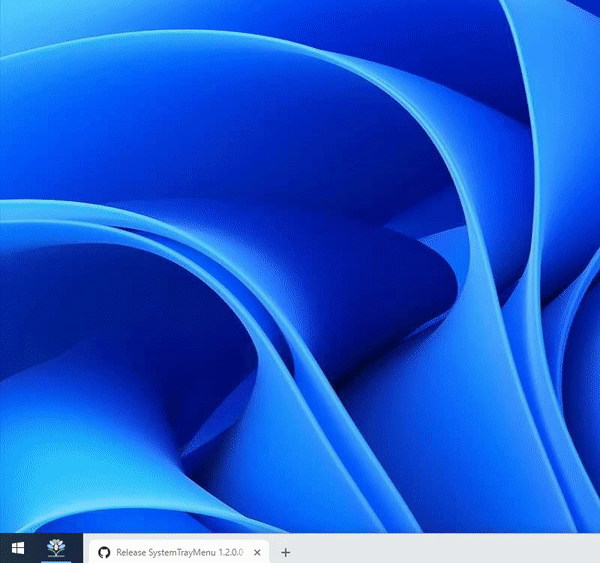 Here are some features that you can look forward to in this free start menu alternative for Windows 11/10 called SystemTrayMenu:
It has resolved links which basically means that all the shortcuts and network paths are resolved in order to display the full content.
It also shows up to 50 submenus arranged in multiple levels as drop-down menus.
This program runs on startup that means it launches whenever you start your PC.
For better usability, it has a search box and a nice and handy scrolling feature.
You can also assign a hotkey to open this software easily and quickly whenever required.
You can also access the context menu for files and folders right from its interface.
If you wish, you can pin SystemTrayMenu on the top of your desktop to not lose the focus of the menu.
See: Backup Start Menu Layout using this free software for Windows 11/10.
How to customize SystemTrayMenu?
To customize SystemTrayMenu, you can click on the Settings (gear icon) option from its main interface. It will open up the Settings window from where you can customize various settings and preferences.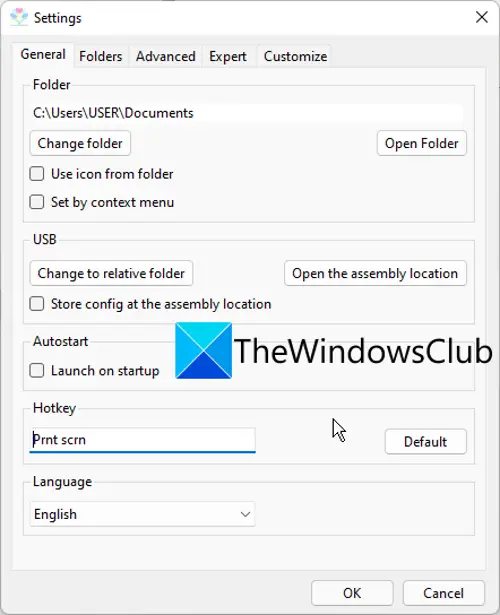 It lets you change the root directory, use icon from the folder, customize hotkey to open up the software, and interface language.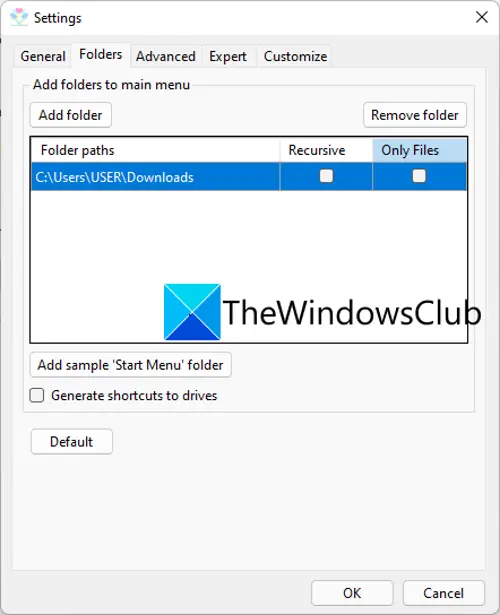 From its Folders tab, you can also add several folders that you want to add to Start Menu. And, it lets you generate shortcuts for your drivers as well.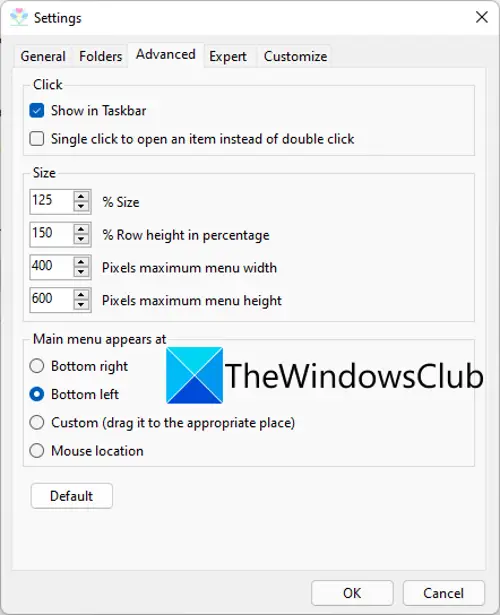 Furthermore, you can set up some more options like Show in Taskbar, Single click to open an item instead of double click, start menu size, and position of the menu.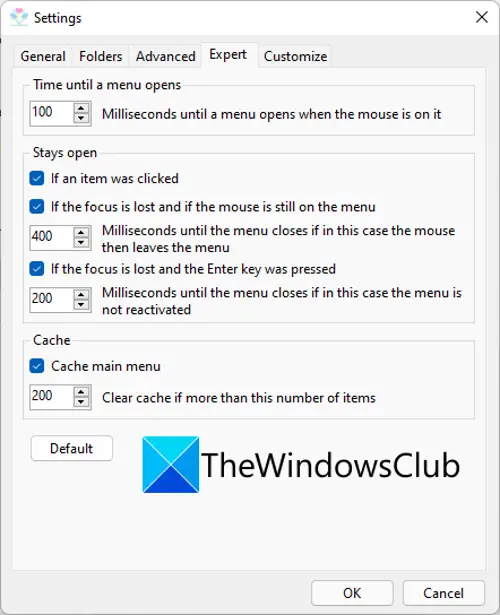 Some more setting options that you can configure in this software include time until a menu opens, clear cache on a specific number of items, etc.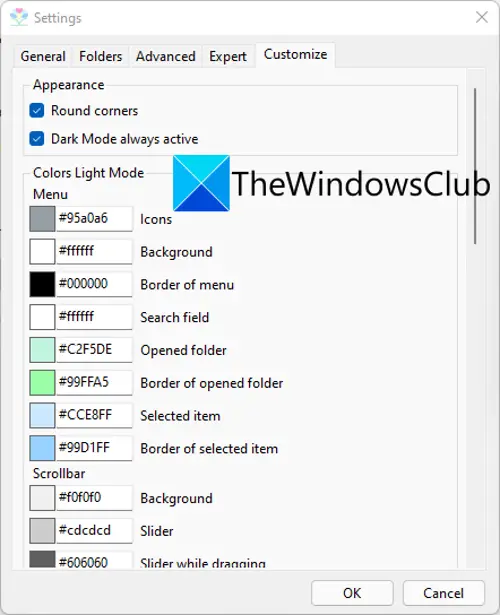 If you want to change the look and feel of the start menu, you can easily select dark or day mode for its GUI. It also lets you select color code for icons, background, border of the menu, search field, opened folder, selected site, border of the selected item, slider, scrollbar, and more.
That's it! If you want a personalized start menu that lets you browse and open files quickly, try SystemTrayMenu. You can download it from github.com.
How do I change the Start menu in Windows 11?
You can use Open Shell to change the look of your Windows OS. You can also do several things to customize Windows 11 Start Menu. You can change its location, color, and look. You can also show, hide, pin or unpin app shortcuts to suit your needs. Windows offers a limited option when it comes to customization, but with third-party software, you get more options. That said, since these apps change files, it's best to already create a restore point before installing or updating them.