Surface Type Cover or Keyboard from Microsoft is one of the best keyboards from the company for their flagship device. You do get the best experience, and almost the same you get on traditional keyboards. However, since they are thin, have a different kind of engineering put together, troubles are not very far away. While we have already seen how a small amount of dust can create connectivity issue, imagine if you don't get to see anything even if you are typing. In this guide, we share how you can troubleshoot your Surface Type Cover or Keyboard Typing Issues.
Surface Type Cover or Keyboard Typing problems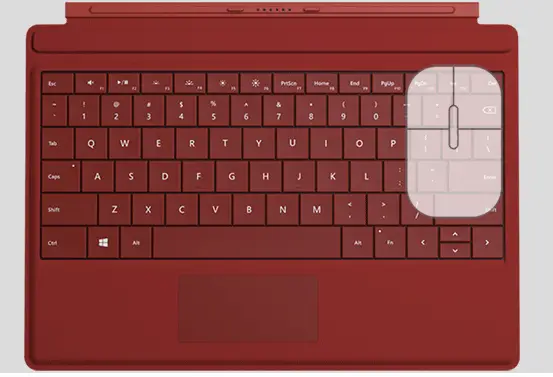 Keys on the Keyboard is not working, but the touchpad works fine
This is a typical case where for some reason one of the special keys like filter, sticky, mouse keys have turned on. These keys can be set back to normal from Ease of Access settings. This setting makes sure that repeated or brief keyboard strokes are ignored. This delivers a feeling that keys are not working. Sticky keys, on the other hand, lets you press only one key at a time.
In case the touchpad doesn't work, but the keys do.
Another easy one to troubleshoot. Chances are that your touchpad is off. You will have to make sure that it's on. The settings, which can change it might differ a little depending on the hardware.
For Touch/ Type Cover 2,  Power cover, Type cover for Surface Pro 3 / Surface 3 / Surface Pro 4 and cover with Fingerprint ID, go to Start, and select Settings > Devices > Touchpad. Check if it's turned off, if yes, turn it on.
In case you don't have those models but have Touch Cover (early model), Type Cover (early model), and Surface Pro Signature Type Cover on Surface Pro, Surface Pro 2, and Surface Pro 3, you will need to use Surface Trackpad Settings app. You can download it from the Microsoft Store, if not installed.
Sensitivity Issue: The touchpad doesn't respond right away after I've been typing
Windows 10 has made sure that touchpad doesn't move the cursor when you accidentally brush your palm against touchpad while typing. Technically, the sensitivity is always low for such scenarios. In case it is happening for you, the sensitivity for the touchpad has changed. Here's how to change the sensitivity.
Go to Settings > Devices > Touchpad. Under Touchpad sensitivity, select Low sensitivity or Most sensitive.
You might want to change this to high if you are planing game where you need both keys and touchpad to respond quickly.
Cant See what you type on the screen?
Don't worry, you don't need new glasses, not yet! Windows 10 Keyboard supports tons of languages, and if the settings for keyboard, and on the computer don't match, texts become…invisible.
Select the Start  button, and then select Settings > Time & language > Region & language.
Make sure the language you're using on your keyboard (the input language) matches the one you're using on your PC (the display language).
Then select the language, select Options and ensure the correct keyboard layout is available. To make sure your language is available for Windows, check the list of the language packs.
Did you get into similar issues? How did you resolve? let us know in the comments.