Most of us tend to take pictures with our smartphones, and since many of these devices are not packing the best cameras in the world, a lot of the photos taken are not of the best quality. The best way to improve these images with software, but what if you're not able to afford Photoshop, or can't be bothered to learn how to use GIMP and others to get the job done? Well, with this in mind, we chose to scour the web for a suitor.
In our search, we came across a tool known as StereoPhoto Maker, and you know what? It's not half bad, to be honest. It's a tool we've been using since April. Therefore, we have a lot of experience and enough data to deliver a conclusion.
StereoPhoto Maker for Windows PC
Understand that this is a free tool, which means, you won't get a lot of advanced features. From what we can tell, StereoPhoto Maker is more targeted towards amateurs than anyone else, and that's fine.
Enhance the quality of your images
1] Add photo
The first thing you'll want to do here is to add your photo for editing. Just click on File, then Open Stereo Image, or you could just hit the W key on the keyboard. Locate the image you want, then add it to the program for editing.
Users should now notice that the single image is split into two parts when added to the editor, so don't lose your mind because this is normal.
Once the image is added, there are quite a few options to be taken advantage of here. For example, one could create an animated GIF with relative ease. Click on File again, then navigate down to Make Animation GIF.
2] Edit an image
In terms of editing, it's not that hard, but also not super easy either. And that has much to do with the bland user interface than anything else. If you're an amateur, then we recommend taking the time out to get used to everything before moving forward.
To make broad edits, folks will need to click on the Edit tab, and from there, take advantage of the options available. So, users will realize the options are there to sharpen, crop, resize, format, and much more.
Want to add a text or logo to your image? Well, no problem Mr. Internet Bob, StereoPhoto Maker has got it covered.
3] Stereo
By clicking on the Stereo tab, several options should appear. Here you'll see Interlaced, Side-by-Side, Color Anaglyph, Gray Anaglyph, and more. If you move over to the Adjust tab, you'll see several features for aligning your image, among other things.
You can even auto align the image if you're not too keen on doing it yourself. Furthermore, when it comes down to adjusting color, simply hit the audio adjust the color text to get it done.
4] Make an HTML File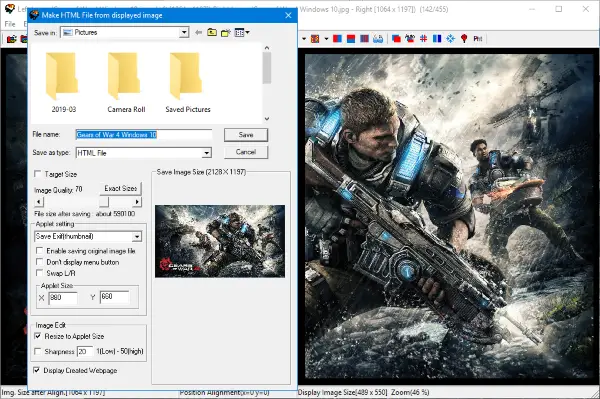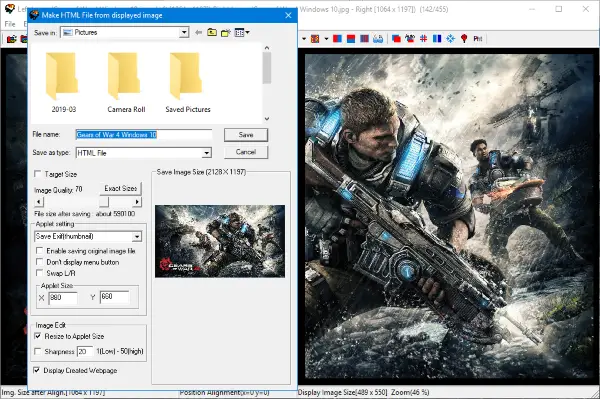 One of the coolest aspects of StereoPhoto Maker is the ability to edit an image, then extract the HTML code from it. Folks will want to do this for the purpose of placing their pictures on the web.
Hit the Web tab and click Make HTML from displayed image. Now, if you want to create an image viewer, this can be done as well, and your choices are either Flash or HTML5. We suggest using HTML5 because Flash is on its final legs.
We should point out that many of the most important options are available in button from right there, so no need to click the tabs if you're looking to move things along much faster.
You can download the StereoPhoto Maker tool right now via the official website.