You may have seen a lot of tutorials on how to change the Start Button Tooltip Text in Windows manually. But an average Windows enthusiasts find most of such tutorials difficult to follow, as they require users to hack system files.
The Windows Club has always believed in making things easier for the common Windows user.
Whether it is our Ultimate Windows Tweaker, acknowledged by Lifehacker as the best Windows tweaker, or FixWin which got positive reviews on Washington Post and FoxNewsLive, and which allows users to fix Windows problems and annoyances in a click without hacking the registry or our very latest Ultimate Windows Customizer which offers tonnes of options to customize your Windows installation easily – from changing your Start Button to Login Screen and much more – our Windows freeware have been well received.
Start Button Renamer for Windows 7
Today we are delighted to release the FIRST Start Button text changer for Windows 7, called as – well – Start Button Tooltip Text Changer!
Change Start Button Text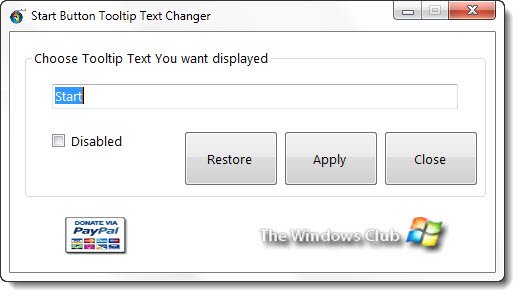 Start Button ToolTip Text Changer will allow you to change the tooltip text of your Start Button or Orb in Windows 7. It has been tested on Windows 7, 32-bit and 64-bit.
Once you have downloaded the file, unzip the contents and click on SBTTC.exe to run the tool.
On loading, it will search your Windows Directory for certain system files. You will see a message: Please wait. Locating files that will need to be modified.
Once done, you are free to replace the default text 'Start', with any text of your choice, in the text-box. You can replace it with your name or simply choose something witty. I have chosen to replace it with 'Go easy with the click'.
Once you have written what you want, click on Apply.
A black CMD window will open and close. Do not close this window on your own. A message: Double checking changes. Please wait, will be displayed.
The application will remain grayed-out.
Once the process is completed, you will be able to click on the Close button. Click Close and then restart your computer.
You will see your that your Start Button Text has been changed! To restore the default 'Start' text, simply click on Restore. To remove the tooltip completely, check on Disabled.

Start Button ToolTip Text Changer v1 has been developed by TWC Team member Lee Whittington, for The Windows Club.
Want to move the Start Orb and Start Menu? Check out our Start Orb Mover!
Have a nice day!