Microsoft Edge has a built-in spell check that highlights the misspelled words while writing. However, some users found the Spell check not working in Microsoft Edge. If you also experience such a problem in Microsoft Edge, you can use the solutions provided in this article.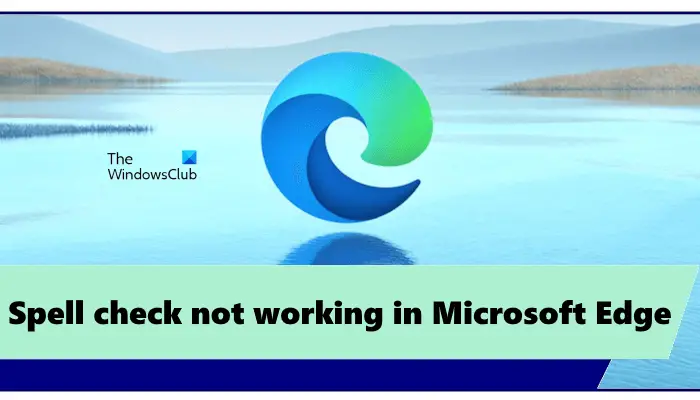 Spell check not working in Microsoft Edge
If the Spell check is not working in Microsoft Edge on your system, use these fixes to resolve the issue.
Check the Writing assistance settings in Edge
Add your preferred language
Clear cache and cookies
Reset Edge Settings to default
Install a third-party extension
Let's see all these fixes in detail.
1] Check the Writing assistance settings in Edge
The first step that you should do is check the settings of Writing assistance in Edge. Microsoft Edge writing assistance includes the following two types of Editors:
Microsoft Editor
Basic editor
The Basic editor provides basic spell-checking assistance, whereas the Microsoft Editor provides enhanced grammar, style, and spelling suggestions. That's why Microsoft Editor is recommended.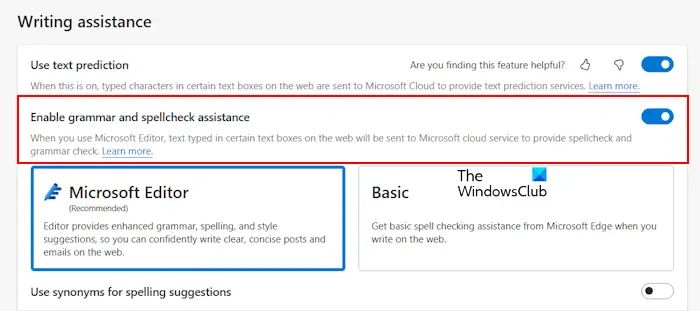 If the Spellcheck assistance is turned off, the Spellcheck will not work in Edge. Follow the steps written below:
Open Microsoft Edge.
Click on the three dots on the top right side and select Settings.
Select the Languages category from the left side.
Turn on the "Enable grammar and spellcheck assistance" button.
Select the recommended Microsoft Editor for best results.
Relaunch Edge and see if the problem is fixed.
2] Add your preferred language
Your language should also be added to Microsoft Edge Spellcheck. Use the following steps to add your language to Microsoft Edge Spellcheck.
Open Edge.
Open its Settings.
Select Languages.
If your preferred language is not available under the Languages section, click Add languages.
Select your language from the list and click Add.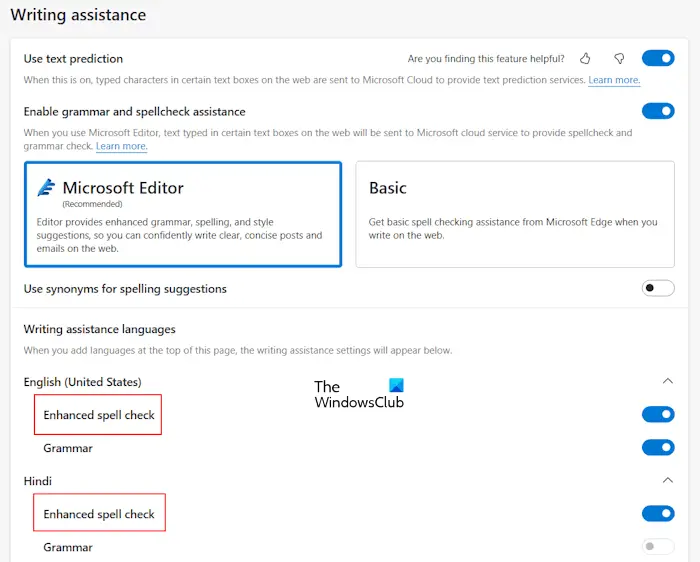 After performing the above steps, your preferred language will automatically appear in the Writing assistance section. Now, expand your language under this section and turn on the Enhanced spell check option.
Now, restart Edge. After doing that, the spell check should work as expected.
3] Clear cache and cookies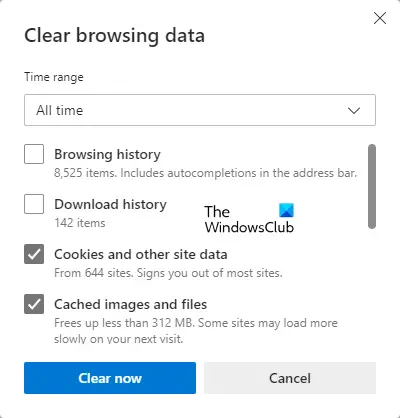 If the spell check is still not working in Edge, clearing the cache and cookies may help. You can launch the Clear browsing data popup window in Edge by pressing the Ctrl + Shift + Delete keys. After that, select the following two options and click Clear now.
Cookies and other site data
Cached items and files
4] Reset Edge Settings to default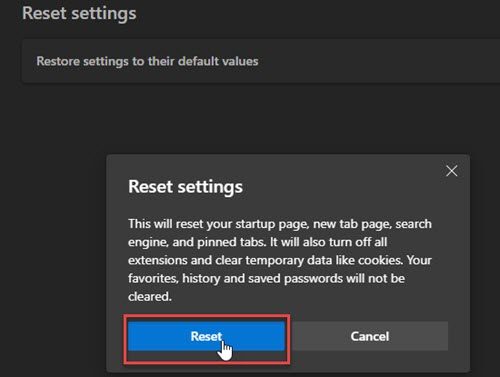 You can also try resetting the Edge settings to default. This action will reset your startup page, new tab page, search engine, and pinned tabs. Before you proceed, make sure to sign in to Edge with your Microsoft account to save all your bookmarks to the cloud.
5] Install a third-party extension
If the problem still persists, you can install a third-party extension for spell check. Grammarly is a very popular extension that checks both spelling and grammatical mistakes. You can install it by opening the Google Chrome Store in Edge. All Chrome extensions also work in Edge.
Grammarly only supports the English language. You can search for a spell checker extension that supports multiple languages including your preferred language.
That's it. I hope this helps.
How do I get Microsoft Word to spell-check again?
To get Microsoft Word to spell-check again, you have to enable it in settings. Open Word and go to File > Options > Proofing. Enable the "Check spelling as you type" option and click OK to save the settings.
How do I turn on Autocorrect on Windows?
You can turn on Autocorrect in Windows 11 via Settings. Open Settings and go to Time & language > Typing. Now, turn on the Autocorrect misspelled words option.
Read next: Firefox Spell Checker not working on Windows.