In Windows, you can use the built-in Snipping Tool to capture the entire or selective part of your computer screen. However, it lacks some features which many are looking for. To get better of the situation, you can use various third-party free screen capture software to take screenshots and edit them on the go. Today, we are going to review Snipaste, a powerful and handy screen capture tool that has several interesting features.
Snipaste lets you capture individual UI components
Snipaste enables you to capture individual UI components using the power of its pixel-level control. You can snip some part of the screen and then paste it as a floating window on the desktop itself. Furthermore, you can play with the color and put custom text on the floating image. You get many options to edit the image details and morph it per your wish.
How to snip an image
Snipaste comes as a portable executable which means you don't need to install it. When you double click the executable file Snipaste.exe, it adds itself to the system tray. It can be invoked using several hotkeys which can be configured as well. By default, you can hit the F1 key to snip any part of your screen.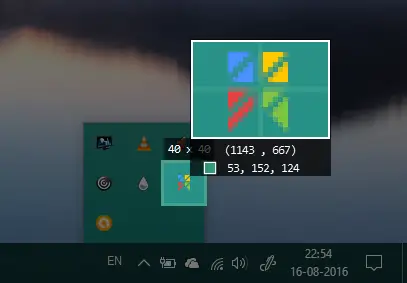 As you hover around different UI elements on your screen, you can see the zoomed view in a little window that tags along with your gesture. It also displays the current color spectrum in the form of corresponding RGB values. Depending on your requirement, you can snip an entire screen or just a part of it. You can select any area which you want to capture and release the mouse button to snip the selected part.
Once you've snipped your intended image, you can edit it using various tools present on the bottom right corner of the snipped window. Draw some shapes, write anything on it or show your artistry using the marker and pencil tool.
Paste it anywhere on the desktop
Once your desired snip is ready, you can paste it anywhere on the desktop using key combination Ctrl+W. It gets painted on the desktop as a floating window which you can slide or move around. Now you can save it as an image or directly copy it to your clipboard. Additionally, you can add to a new group where you want to accumulate similar snips or replace them using some other image files stored on your PC. Once done with it, you can click Close to get rid of it.
Customize Snipaste settings
Much useful the tool it is, Snipaste also offers a wide range of options to make it 'yours'. You can configure several settings related to snipping and pasting the images. For Snipping, you can change the number of records maintained in the history, change the default masking color or enable/disable the functionality to auto-detect UI elements or windows. Whereas for Pasting any image, you can calibrate the settings regarding scaling, zooming or text to image conversion, etc.
Also, there are specific hotkeys assigned for particular functions. For example, for Snip the default hotkey is F1 while for pasting it is set as F2 by default. You can change these per your wish.
Bottomline
Snipaste is a nifty little tool that can come in handy for those who frequently take screenshots and want more features as add-in support. Give it a try by downloading it from the official website here. It is also available in the Microsoft Store.