Microsoft Excel by default shows a horizontal and vertical scroll bar in an Excel workbook. It lets you move through the worksheet so that you can scroll the data on the page easily. But if you don't like to have the horizontal or vertical scroll bar or both on your Excel page, you can hide it/them using the Excel Options dialog box. In this post, we will show you an easy tweak to hide or display scroll bars in Microsoft Excel.
How to remove scroll bar in Excel sheet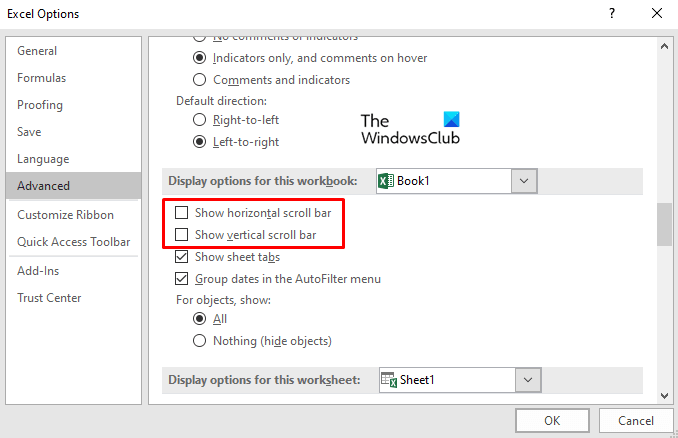 If you want to hide or display scroll bars in your Microsoft Excel sheet then follow these instructions:
Open an Excel file
Click on the File tab.
From the left sidebar, select the Options button.
In the Excel Options window, select the Advanced option from the left pane.
scroll down and locate the Display options for this workbook section.
Uncheck the checkbox next to Show horizontal scroll bar to hide the horizontal scroll bar.
Similarly, you can hide the vertical scroll bar by deselecting the checkbox named Show vertical scroll bar.
Click the OK button to close the window and save the changes.
Read: How to insert Multiple Blank Rows in Excel at once.
How to Resize the Horizontal Scroll Bar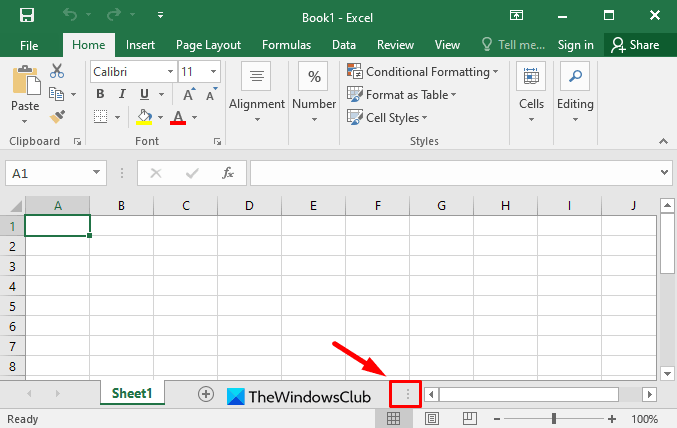 You can expand or shrink the horizontal scroll bar size of your worksheet by following theseinstructions:
Open Excel sheet
Go to the left end of the horizontal scroll bar.
Here you will see a vertical three-dotted line.
Place your mouse pointer over this dotted-line and drag it to the left to increase the scroll bar.
In the same way, drag your mouse pointer to the right and it will shrink it.
That's it. I hope you found this guide helpful.