If you find that the Show most used apps setting is disabled or grayed out in Windows 11 or Windows 10, then there is a simple fix that can help you resolve this issue.
Show most used apps setting is grayed out
The Show more used apps setting when enabled displays the Most Used list in the Start Menu. This setting is available here – Settings > Personalization > Start panel. If you toggle this setting off, this list is not displayed in the Start Menu.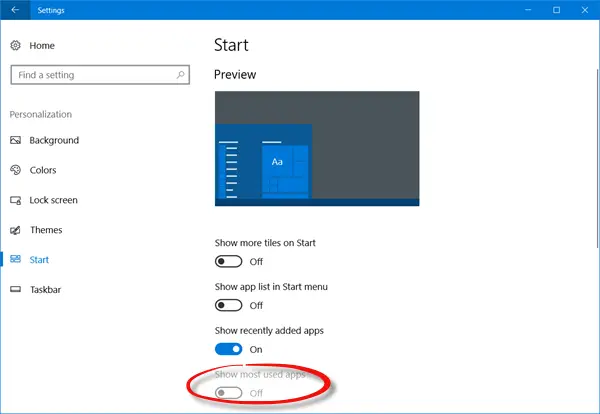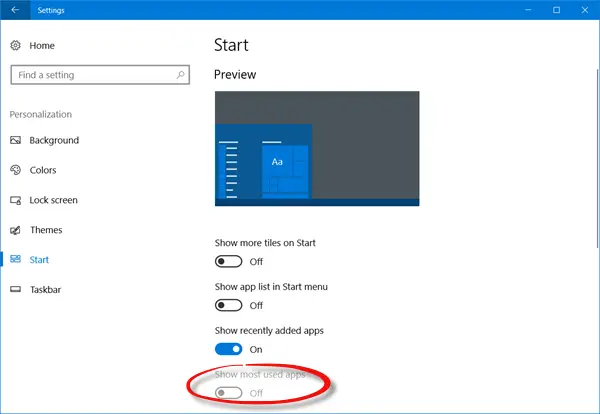 Some users have reported that they have found this setting disabled. If you find that this Show most used apps setting is grayed out, here is what you need to do to fix the issue.
Press Win+I keys to open Windows 10 Settings and select Privacy settings and then click on the General link.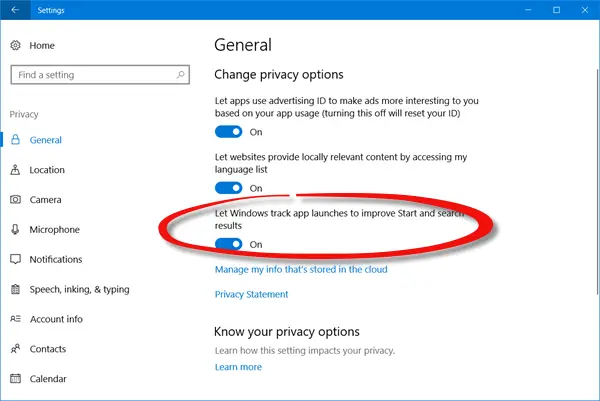 You will see a Let Windows track app launches to improve Start and search result setting. Ensure that this setting is set to On position.
Now go back and check the Show most used apps setting.
You will see that it has been enabled.
The setting can also be grayed out if the Prevent changes to Taskbar and Start Menu setting in Group Policy is enabled. You will see the setting here –
User Configuration > Administrative Templates > Start Menu and Taskbar.
You could also open Windows Registry and check this key:
HKEY_CURRENT_USER\Software\Microsoft\Windows\CurrentVersion\Policies\Explorer\NoChangeStartMenu
If it exists, then its value should be 0.
That is all there is to it! Hope this helps you resolve the issue!
There are a lot of new settings available in Windows 10 Settings. You might want to take a look at them now.