Search in SharePoint allows users to find relevant information quickly and easily. If you are an administrator, you can even customize the search experience or change its language and region settings when the service fails to show results from another language.
SharePoint search not returning results
The issue can be resolved easily by specifying your Language and Region settings and then choosing the required language during a search query. Here's how to do it!
Go to SharePoint Online site.
Choose your profile.
Select About me.
Click Edit Profile.
Click ellipsis.
Select the Language and Region.
Add more languages where the characters exist.
Click the Preference drop-down menu.
Select the language.
Launch your browser and visit the SharePoint Online site.
Click your profile image (seen in the upper-right corner of the page), and then click About me.
Hit the Edit Profile button.
Hover your mouse cursor over the ellipsis (…), click it, choose the Language and Region option.
In the Language Preferences section that appears next, do the following.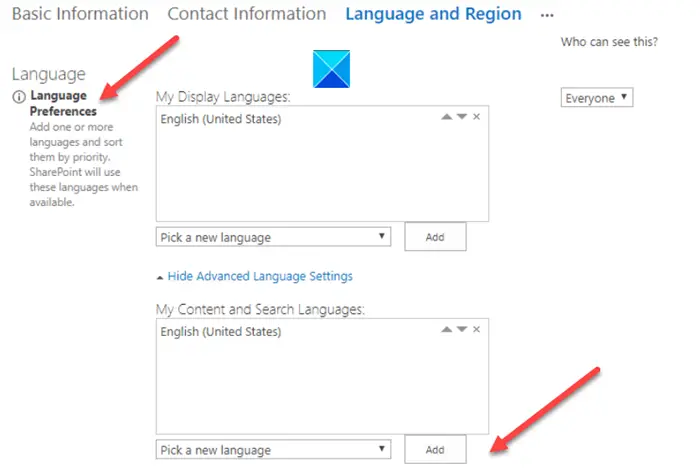 To change your display language in a SharePoint environment, select the Pick a new language down arrow, choose a language, and then hit the Add button.
To select another language for your content and searches or provide results from another language, select Show Advanced Language Settings > Pick a new language down arrow, click a language > Add.
You can use the up and down arrow buttons in the My Content and Search Languages box to specify the order in which these languages should be used.
To delete a language, select the X option next to the language.

The language you select the first language will be used as the default language for search queries. To enable SharePoint Search to provide results from another language, select the language from the Preference for results in the drop-down menu.
Depending on your site collection settings, the language in which the site collection is displayed may change.