Whenever we work on multiple systems, sending files over the connection is what we prefer the most. After all being on the same LAN connection makes our work easier, file transfer is what makes our tasks difficult. Most of the time we end up sharing files to ourselves over the mail as most working areas prohibit the usage of thumb/flash drives.
File sharing over the LAN connection is easy but not a child's task too. In this article, we will share some basic methods using which you can easily share files between systems over a LAN connection.
Now, this LAN connection could be your Home Network or Office Network, these methods will work on them. Sharing files over the network keep files between the sharing users and the workgroup. Moreover, plugging external drives again and again to different computers is very troublesome.
To perform this method, we suggest you using Ethernet/LAN cable because of various reasons. Using a cable connection is one of the oldest and fastest ways of transferring data securely. Using the Ethernet cable is the obvious choice, the cheapest Ethernet cable support transfer speed up to 1GBPS. Even if one uses USB 2.0 to transfer data, the ethernet connection will still be fast as USB 2.0 supports speeds only up to 480 MBPS.
Share files between computers using LAN
To be able to transfer or share the files between the computers, you need to connect them directly via an Ethernet cable or a router/modem. The only thing you should keep in mind is that both the systems should be in the same network. You can change the medium of connection but the method works on every connection if you follow the steps.
The steps you need to transfer files between Windows 10 computers using LAN are:
Connect both the systems.
Enable and Configure Network Sharing on both systems.
Configure LAN connection
Transfer files.
1] Connect both the systems
Connect both the systems to any LAN network or use a LAN/Ethernet cable to connect them. Make sure that the LAN cables are in good condition. If you prefer to use Wireless LAN or WLAN then make sure that connection strength is good.
2] Enable and Configure Network Sharing on both systems
Perform this method on both the computers, make sure to follow every step.
Press Win + R keys, type control, and press enter. The Control Panel will open up.
Change the view to Large icons and click on Network and Sharing Center.
Now, on the left panel click on Change advanced sharing settings. Keep in mind that this method works on Private as well as the public network.
In the Private network, section Turn on Network discovery and File and Printer Sharing.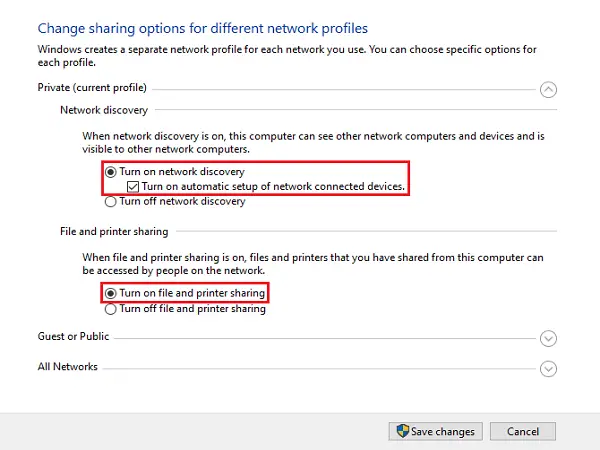 Perform the above step for Guest or Public network if your network is set to Public.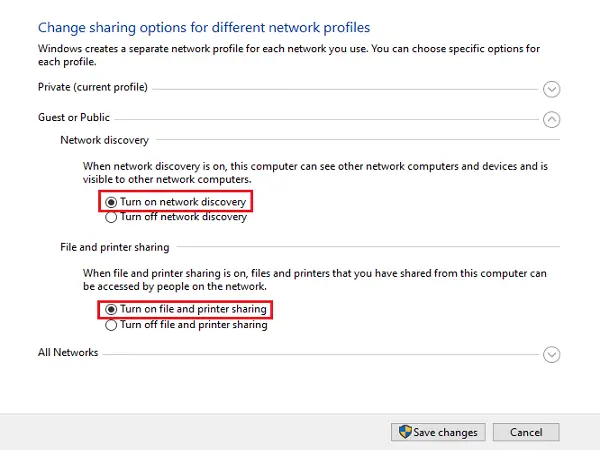 To check which type of connection you are on, your system shows "current profile" in front of what type of connection you are on.
Now in All Networks section, under File sharing connections select 128-bit encryption.
You can choose to turn password protection on or off as per your preference.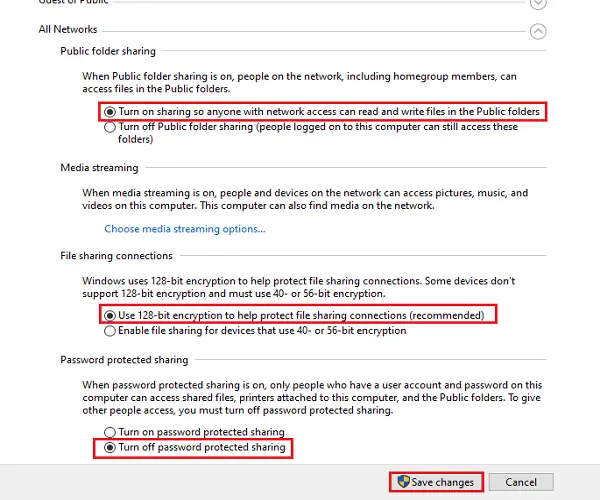 Now click on Save changes.
Read: File Sharing is not working in Windows.
3] Configure LAN connection
Configuring LAN is not a big deal if you understand how to set IP Addresses. In this method, we are not going to set any IP addresses but we will choose to obtain them automatically. Setting these IP addresses manually requires a basic understanding of how they work.
Press Win + R keys, type control, and press enter. The Control Panel will open up.
Change the view to Large icons and click on Network and Sharing Center.
Now, on the left panel click on Change adapter settings.
Right-click the network you are currently connected to then click on Properties. If the connection is via cable then choose Ethernet or If the connection is wireless then choose the wireless connection.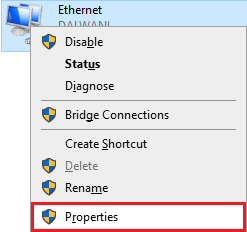 Now scroll down and double-click on Internet Protocol Version 4 (TCP/IPv4).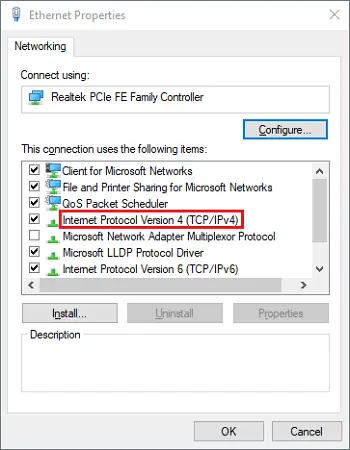 In the General tab, select Obtain an IP address automatically. Now select Obtain DNS server address automatically.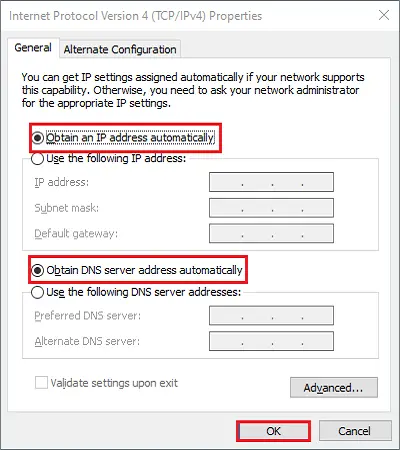 Click on OK and close the connection properties.
Note: If you are working in an organization where networks are configured by any authorized person then you can take his/her help.
4] Transfer files
Now to transfer or to share files between computers, you can do it pretty easily.
Collect all the files you want to share in a folder.
Right-click on the folder and click on Give access to.
Now, click on Specific people.
Select the user with whom you want to share the files, change the permission level as per your requirement, and click on Share.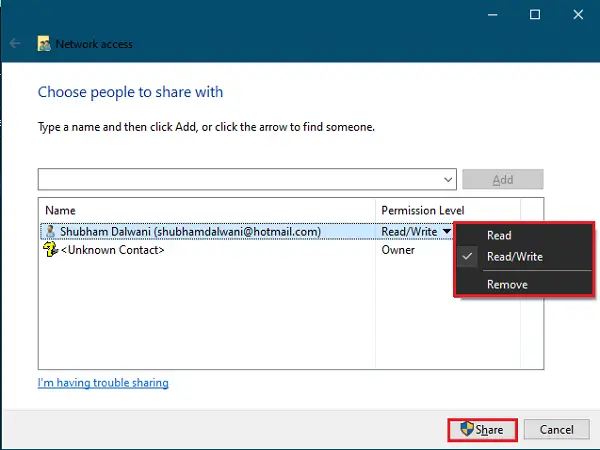 Go to the system with which you just shared the folder. On the system, open This PC and navigate to Network from the left panel to see no. of connected networking devices.
Select the device from which you just shared the files and you will the folder of files that was shared.
Tip: Using Ethernet cables for this type of sharing is much preferable as compared to a wireless network. The fluctuation in Wi-Fi signals can cause a device not to be discoverable. Check how to see other systems on the network if your PC is not able to scan them.
Read next: You can't connect to the file share because it's not secure.