As a social networking addict, if you feel the need to have a tool to easily share, spread, and save interesting links via your social networks, try Share button plugins like Shareaholic for Chrome and Edge and AddToAny Share Anywhere for Firefox. The add-ons make the task a breeze! Using it, you can submit a web page to your favorite bookmarking sites email, blogs, and IM in an instant.
Share Button Plugins enable fast sharing of links across multiple browsers
Most websites today display Sharing buttons on their webpages – whereas some do not. If you are on a mobile device, you can use the Sharing options that mobile browsers offer. But on desktops, sharing could become difficult, and you might then feel the need for using a Share Button extension on your desktop browser.
Share Button Plugins for your browser
With the Shareaholic browser extension, you can find the freshest news, videos, and blogs as they emerge on the real-time web and easily share them on any of your social networks.
Similarly, AddToAny's Universal Share Button makes it easy and fast to share links to anyone anywhere using Facebook, Twitter, WhatsApp, email, and many more sharing and social media services.
Add the Shareaholic or AddToAny Share Button Plugin for Chrome, Firefox, and Edge.
Visit a website to share its link
Access the plugin menu from the Toolbar
Choose your sharing destination.
Share Tweet, bookmark, or save the e-mail webpages.
Shareaholic browser extension
Visit the Shareaholic extension page to add it to Chrome or Edge. Add it to the browser.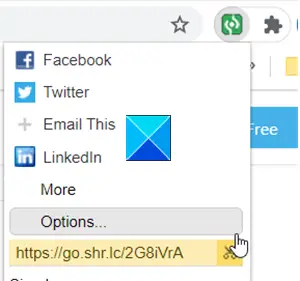 Simply access the Shareaholic menu in the toolbar and select an icon to share with one of your social networking accounts.
Also, when you visit a website, supported by Shareholic's browser extension, you can choose to change the order of your preferred personal sharing destinations by arranging them as per your preferences. This makes the sharing process easy enough, especially when you have multiple social media accounts.
Use the favorites button to save your favorite pages to the User Dashboard. All the links you share or the links of friends you follow on Shareaholic appear under it.
AddToAny Share Anywhere button
Do the same for Firefox's AddToAny Share Anywhere button.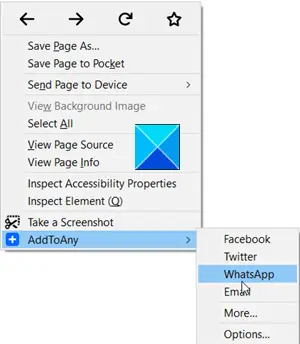 You can either use the More button to instantly access the desired service for sharing or right-click to share from the context menu (optional)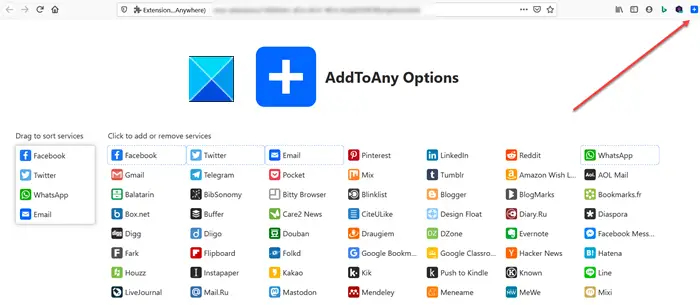 A good feature of these Share Button Plugin for Chrome/Edge and Firefox is that they are optimized to load instantly without slowing down the browser performance.
Moreover, they direct to the HTTPS version of sites for privacy on shared networks