Microsoft's Skype integration with Alexa-enabled device (Echo Dot) offers users a hands-free way to connect with family members and friends around the world. Currently, the facility is available in few regions like the US, the UK, Canada, India, Australia, and others. It is likely to be rolled out for other countries, soon. Let us see how set up and optimize Skype calling with Alexa.
Set up & optimize Skype calling with Alexa
Skype calling with Alexa allows you to make and receive Skype calls through Alexa devices with just the sound of your voice.
Setup Skype calling with Alexa
Begin by linking your Skype account to your Amazon account in the Alexa app. For this, open the Alexa app and select the 'Menu'.
Next, choose 'Settings'.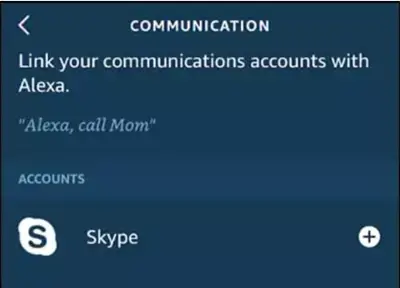 Go to 'Communications' and then select, 'Skype'.
Now, sign into Skype, and then follow the on-screen instructions to link Skype to Alexa.
Optimize Skype calling with Alexa
Once you've set up Skype calling with Alexa, it's time to optimize the app for a better calling experience. You can do this in several ways. For instance,
you can some Skype contacts visible on your Alexa device with a screen. For this, choose 'Settings' from our Alexa device, navigate to 'Accessibility' and select 'Enable Calling & Messaging Without Speech' option.
Likewise, if you are experiencing trouble finding the correct contact, try editing its name on Skype. To do this, go to the profile of the person, select the edit button, enter a new name, and confirm your changes.
Also, it can be bothersome if all your Alexa devices start ringing when you receive a call. So, if you would like to change this default behavior, simply create a 'home Skype account' for only Alexa home use.
Lastly, make sure you're using the latest version of Skype and your system meets the minimum requirements for running the app. Also, it is essential to have the latest software updates and hardware drivers installed to prevent some sign-in issues.