Windows Terminal brings in the best of all Windows 10 command lines under one with Tab support and supports various Linux command lines that come under Windows Subsystem for Linux, Windows Command Prompt, and Windows PowerShell as well. We have already seen how to change Default Color Scheme, now let us see how to set a custom Background Image in Windows Terminal.
How to set Background Image in Windows Terminal
The color scheme you select sets the background of Terminal on your computer. There are options available to set a custom image as the background.
To do so, open the Settings tab on Windows Terminal
Now select a profile.
After selecting a profile, click on Appearance
Scroll down to the Background image option.
Then, click on Browse and select the image from the Explorer window
Alternatively, check the box beside Use desktop wallpaper to use your desktop wallpaper as Terminal background.
Once, you are done with the image selection, click on the Save button at the bottom of the window.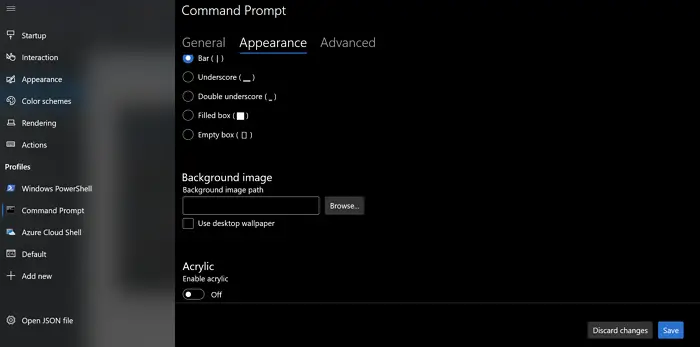 Hope you find this useful.
Now let us see how to change Default Key Bindings in Windows Terminal. Key bindings are nothing but keyboard shortcuts on Windows Terminal. If you want to change a default keyboard shortcut with your own keyboard shortcut, you can do so.
TIP: You can even enable Transparent Background in Windows Terminal. More Windows Terminal Tips and Tricks here.