Windows Terminal is a great new tool with a ton of new features. You can run CMD, PowerShell, and Bash prompts in the same window using Windows Terminal. The customization options it gives you make it even better. We have seen change how to change the Default Shell in Windows Terminal, now let us see how you can change the background color scheme. Let's see how we can do it.
How to change Default Color Scheme in Windows Terminal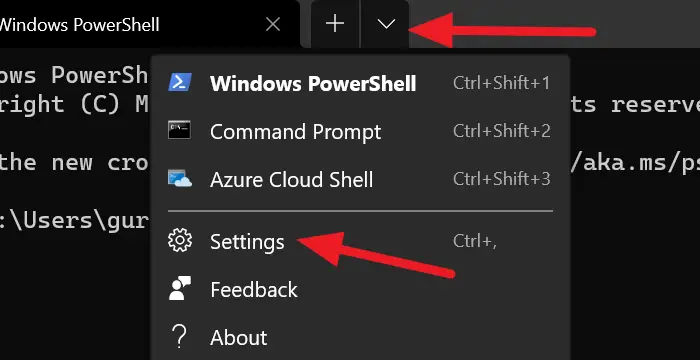 The color scheme on Terminal is nothing but its theme. Windows Terminal comes with a lot of built-in themes. You can change your theme anytime you like. The only way to change the theme is by making changes in the settings.json file.
To change to one of the many built-in themes on Windows Terminal:
Click on the drop-down arrow and then select Settings.
It will open a Settings tab.
Click on Color schemes from the sidebar.
Then, select the theme by clicking on the drop-down menu under Color schemes.
Or you can set your own colors by selecting colors for Terminal and system.
Once, you have selected the color scheme, click on the Save button at the bottom right of the window.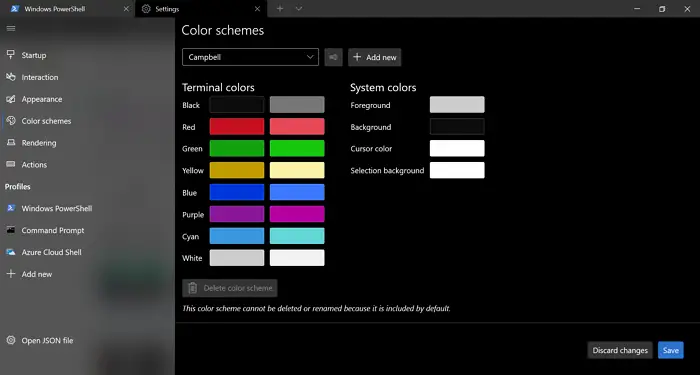 You can customize a few elements in Windows Terminal. You can even add a custom command line!
In the next post, we will show you how to set a Background Image in Windows Terminal.